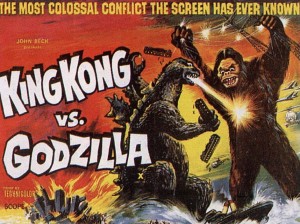 I recently finished a draft of an article about Pacific Rim (2013) that required re-watching both Gojira (1954) and Godzilla: King of the Monsters! (1956), which I thought were permanently etched into my brain because I wrote numerous papers including them as an undergrad studying the Cold War and Nuclear Culture.
Criterion remastered both movies and put them together as a BluRay set (also available on some streaming services). It's been a long time since I've seen Gojira, I was surprised how much I'd forgotten. This is probably because I've seen Godzilla so many times it's pretty much over-written the other movie in my brain.
It's fascinating to watch them back to back again. Both are melodramatic and slightly nonsensical, but Gojira is artistic and intensely political, while Godzilla is generally just silly and over-wrought.
More than 1/3 of Gojira's scenes were cut to make room for the insertion of new scenes featuring American actors, and, to be fair, it's impressive how well Godzilla works.
It's always interesting to see how much of the story was changed, re-arranged, or simply obscured through the omission or lack of translation for some of the original dialogue.
Here are Criterion's 3 Reasons to Watch Gojira:

After you watch those two movies, you'll be ready to move on to Godzilla Raids Again (1955), which is a delightfully bonkers piece of movie-making. I'm certain the original movie must be wacky, but it's the epic amount of narration added to the American version that truly elevates this movie to instant classic status.
Godzilla Raids Again makes a perfect double feature with King Kong versus Godzilla, which was re-edited to make a strange movie even stranger, although I'm not certain that was the intention.
The actor playing the American scientist doesn't pronounce reptile properly. He keeps saying "reptull," which is odd since he's supposed to be a specialist in reptulls, er, I mean, reptiles.
The plot: someone decides it's a swell idea to go get a giant gorilla and bring him to Tokyo to fight a giant prehistoric dinosaur. Sure, why not? And then there's a whole pharmaceutical company subplot, the racist depiction of natives in the King Kong acquisition scenes, something involving hallucinogenic red berries, and a giant octopus attack.
Don't miss the Interpretive Kong Dance Extravaganza!
Husband and I are definitely ready to see the new Godzilla Thursday. I'm going to be very sad if it sucks like the 1998 Godzilla did. It's okay for a Godzilla movie to be Bad, but it should never be boring and stupid.
That movie was boring and stupid and let us never speak of it again.
Here's the Official Godzilla (2014) Trailer:

If you want to know more about the evolution of the Godzilla movies, William Tsutsui's Godzilla on My Mind: Fifty Years of the King of Monsters is an entertaining and informative read.