When I was a kid, I found a monkey.

Technically, it wasn't a monkey, it was an ape called a Siamang, but I wouldn't learn that detail for many years. 30 years, to be precise(ish).
Back on that day in the late 1970s, dad and I stopped at Wendy's.
I guess we were there for lunch. We definitely weren't there for primates.
We chose a table and I sat down. Dad was about to go to the counter to order when I noticed there was a bag behind my chair, presumably left by the recently departed occupants of the next table.
(This isn't the weird part of the story).
In my memory it was one of those canvas totes like they sell at LL Bean, but I honestly can't recall much about the bag.
Other than the fact that the bag was moving.
The bag was moving because there was a monkey inside.
Long hairy arms reached up out of the bag and grabbed the back of my chair. A small furry head followed and the two of us had what seemed to me to be pretty meaningful moment.
The events that followed probably unfolded quickly, but in my memory they happened in slow-mo:
My dad matter-of-factly instructed me not to talk to strangers or feed the monkey, since it might have a special diet.
My dad was very practical.
My dad went to call a deputy to come and pick up the monkey, since dad figured mom would kill us both if we took it home. Plus, it'd be wrong to take a lost-and-found monkey home.
While dad was at the counter asking for the manager and I was chatting with my new simian friend, a Wendy's employee began to wipe down the table, saw the monkey, and freaked the fuck out.
The memory may be slightly murky, but I'm pretty confident in the sequence of events because I thought the employee was screaming because she saw me.
Which was more than a little upsetting. I was wearing my favorite dress! I loved that dress! Why was the woman screaming at me? Didn't I look adorable in my favorite dress?
A girl came running in from the parking lot, panicked because she'd left her sister in a bag.
I swear that's what she said.
"I forgot my sister. She was in the bag."
She grabbed the diaper-clad creature and the bag, and then she ran back out.
I immediately stopped caring about the Wendy's employee who was still staring in my direction and screaming, for I had just had an epiphany.
Wow! My parents can trade my baby brother in for a monkey! I knew this had to be possible!
My parents didn't trade in my brother, but I guess in the long run that worked out okay.
(Still not the weird part).
Now that I think about it, this incident probably precipitated both my lifelong love of primates and my lifelong wariness around fast food.
Fast-forward a few years.
I was at a new school and one of my classmates lived on a monkey sanctuary. I was at his birthday party or something. We'll call him JunglePete, because that's his name.
(Calling a kid JunglePete would be weird, but at the time he was still just plain "Pete," so in the final analysis this isn't the weird part, either).
I was talking to one of his sisters. This, I shit you not, is a pretty accurate approximation of the conversation she and I had:
Her: "My sister left a monkey in a Wendy's one time!"
Me: "We found a monkey in a Wendy's one time!"
Her: "No way!"
Me: "For real. A monkey!"
Her: "That's crazy! I wonder if it happens a lot?"
For smart kids, we weren't always very smart.
Fast-forward a whole lot more years, to last Saturday, June 15, 2013.
Husband and I were at the Central Florida Zoo with JunglePete, his wife and son, and his father and his father's wife.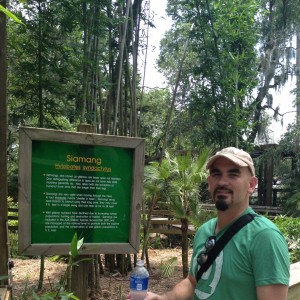 Our first stop was the Siamangs.
When we made plans to meet at the zoo, I didn't understand there was a personal nature to our mission. I thought we were just too cheap to go to Sea World during the peak season and had chosen a more off-the-beaten track Father's Day outing destination.
It turns out that in the 70s, the sanctuary had a rescued Siamang named Bridget. Eventually, Bridget went to live at the Central Florida Zoo, which had better facilities for apes and a mate for Bridget. Bridget had some babies over the years, but she rejected one of them. JunglePete's parents took in the baby, who they named Topaz.
We were at the Central Park Zoo to visit with relatives of their old friends, Bridget and Topaz.
(We haven't gotten to the moment of weirdness in the story yet, but we're getting closer).
After we visited with the Siamangs, we wandered around the zoo for a few more hours.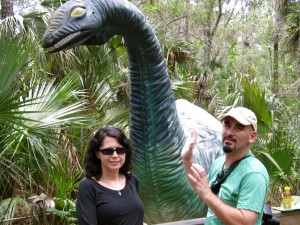 JunglePete & I at the Central Florida Zoo, photo courtesy of Eric "Husband" Gordon.
(Whatever is happening in this photo may or may not be a little weird, but is otherwise unrelated to this post).
At some point, JunglePete and I ended up back at the Siamangs and I casually mentioned to Pete that my dad and I found a monkey one time in a Wendy's in Venice, Florida.
JunglePete replied that his family once almost left someone behind in a Wendy's in Venice, Florida. But they didn't leave a monkey – they left Topaz! Fortunately, they remembered as soon as they got back to their van and JunglePete's older sister dashed back into the restaurant to reclaim her.
Being older and a little bit wiser, we understood that we were remembering the same event.
Okay, to be honest, we didn't realize it immediately.
We didn't realize it until Husband started laughing at us for being idiots.
Then we realized it was the same incident. What. Ever.
The fact that our childhoods had intersected years before we met was, even to us, pretty weird.
Then I made JunglePete talk to the Siamang. (While I made a video so he couldn't deny it later).

[embedded video: me forcing JunglePete to speak Siamang]
Then 6 full-grown adults crammed themselves into a 1951 1/5 size replica train operated by a dude in a conductor's hat who probably didn't even think it was weird to be wedging himself into a tiny car and driving grownass people around all day in a miniature steam train.
I bet you think I'm making that part up.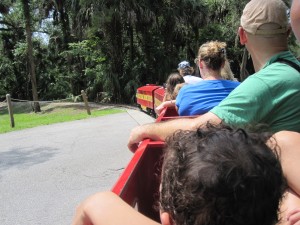 I'm not.
This post is full of hazy memories from the late 1970s and early 80s. JunglePete's mom and my dad are both deceased, so you're at the mercy of mine and JunglePete's memories on some of the details (and may god have mercy on your souls) but we do have witnesses who can corroborate the important points.
While writing this post I realized that I still have a habit of automatically checking behind my chair whenever I sit down in a restaurant, hoping to find another monkey.
I haven't ever found another one. It's probably a rare occurrence, but if you ever find one, please let me know!
On Saturday, standing there watching the relatives of the gibbon I met at Wendy's several decades ago (and a hundred miles away), with the people who left the ape – that was weird. I think the word surreal is overused and often abused, but I'd go so far as to label the moment surreal.
Back in the 70s none of this was newsworthy. Or if it was, it didn't occur to anyone involved to contact the press. Very few things in Florida are particularly odd to native floridians (except the weird & crazy crap that snowbirds and transplants do, but that's a subject for another day). While writing this post I did, however, do a bit of googling and turned up a picture of Pete's mom and Topaz from an unrelated news article about the sanctuary: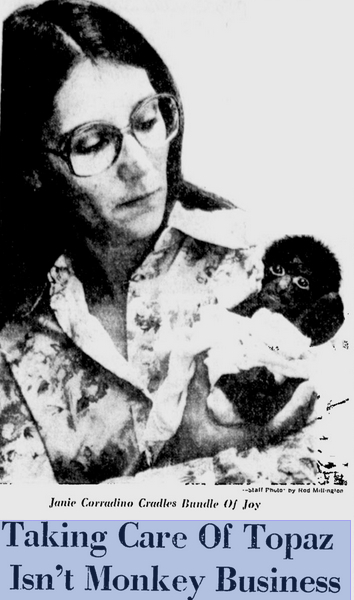 JunglePete's mom, Janie Corradino, with Topaz, Sarasota Herald-Tribune, December 15, 1978.
As for that day way back when? After lunch, dad and I went about our usual errands. We probably went to Lido Beach so I could play on the swings or up to Jungle Gardens to visit with dad's friends. They'd shoot the breeze while I watched them milk the cobras to make anti-venom.
You know, the usual father-daughter stuff.
—–
editor's note: I just changed some of the dates because JunglePete informed me I was off by a year or two here and there.
Also:
Full disclosure: obviously, it wasn't a monkey. It was a lesser ape, but monkeys make better headlines. Plus, from 1978 to 2013 I thought it was a monkey so I use the word monkey a lot in this post even though I am well aware of the difference. Get over it.