I was going to post a clever Wonder Woman-themed gif to let you know we're off to spend some quality time doing as little as possible on Siesta Key.
Alas, Florida had to suffer without our presence, because I broke my foot the day of our scheduled departure. That's probably also why I forgot to post. It's been a challenging time.
To be fair, our week hasn't been nearly as challenging as the one had by this family in Cape Coral, Florida. They discovered a 4 foot monitor lizard living in their attic.
I figure not having a giant carnivorous lizard living in the attic is a big win and I should stop complaining.
Story courtesy of Craig Pittman, aka @craigtimes on Twitter.
But back to me, because this is all about me, damnit.
Husband named my cast Boba Foot. Admittedly, it was funnier when I was still taking painkillers, but it still makes me laugh.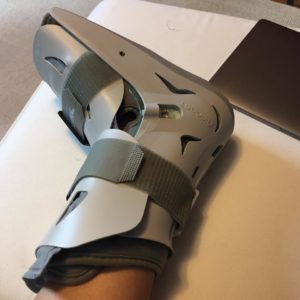 We almost immediately started referring to it exclusively by name. I go back to see the surgeon next week and you know it's going to blurt out of my mouth, so that could be fun.
On a Star Wars-related tangent, we started listening to Carrie Fisher's audiobook of The Princess Diarist. I read it the day it came out, but since Husband hasn't, it was in our road-trip entertainment stash.
I enjoyed the book when I first read it, but now that Fisher is dead it's a bit sad, especially since I keep picturing her reading selections aloud to Gary.
Last night while we were listening, Husband suddenly sat bolt upright on the couch and snatched up his laptop. I paused the book and asked the most obvious question: "Are you looking for pictures of Gary?"
Husband didn't actually think this was the most obvious question. I don't know what's wrong with him sometimes.
He never did tell me what he needed to look up, or maybe I was too distracted by pictures of Gary to hear him.