July 21, 2013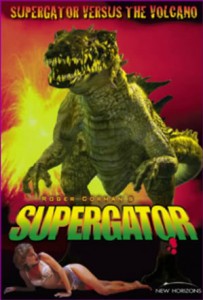 Spoilers? Sure. Maybe. I doubt it.
Supergator. Produced in the land before time (2007, when SyFy still had "i"s). Like many Sci Fi/SyFy originals, Roger Corman is producer/executive producer (depending on which credits you check). I mention this because when B-movie nerds, usually male and of a certain age, speak dismissively of SyFy craptaculars, they usually point out that Corman was the master of the genre – he did it first and he did it better. It leaves them flapping their jaws a bit like carp when one points out that the Corman/SyFy dichotomy is a false one and thus their pronouncements are silly.
But I digress.
Supergator.
Kelly McGillis is de-extinticting a supergator. In Hawai'i. Like one does.
It's a secret.
Since the project to bring Supergator back from extinction is a secret, no one except Kelly McGillis knows that Supergator has gotten loose on this very small, inhabited Hawai'ian resort island.
A plucky geology research team is there to study the impending volcanic eruption that isn't a big concern to anyone else, even though it's a very small, inhabited Hawai'ian resort island.
Even though at several points in the movies it's emphasized that the volcano is dormant.
Except when it's not.
Whatever.
The research team is lead by a pompous volcanology professor. Accompanied by his annoying grad assistant, a blond woman who is apparently a geologist, and a reporter/ex-geology student played by Bianca Lawson (whose resume is actually miles longer than anyone else in this movie and probably should have gotten top billing), he bravely investigates the dormant and/or active volcano by hiking 5 minutes into the deep and remote jungle on the uninhabited and/or densely populated island.
They arrive at a waterfall where they spot a rock covered in blood: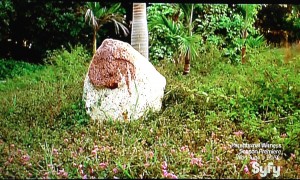 The pompous volcanologist explains that it's probably a birthing stone. You know, a big pointy boulder that women perch on to give birth. The implication being that the native women-folk of the swanky tropical resort have no need for hospitals or flat surfaces or logic.
I don't know what this weird bit of dialogue was supposed to reveal about these characters, but it failed on every level except the one wherein we began to actively root for Supergator.
The waterfall is Supergator's Supersecret feeding ground where he's been chowing down on people since the movie began.
By "people" I mean "actors you can't wait to get rid of."
Soon, the running and the screaming begin.
Go, Supergator, go!
Through the whole movie, a wannabee model in a hot-pink thong bikini runs around looking for help because her photographer and another model were eaten by Supergator at the beginning of the movie at that waterfall on the very small, inhabited Hawai'ian resort island that is sometimes very close to the resort and other times very far away.
None of it matters. It's Supergator. Stop thinking so much.
As I mentioned at the beginning of the post, when you were still paying attention, Supergator was made in 2007. It was followed 3 years later by Dinocroc vs. Supergator (2010). I'm sure I watched that one when it aired but I think I've repressed most of the details. Luckily (?) our Tivo, Overlord II, recently recorded it for me. The heatwave has been highly conducive to staying indoors and watching crappy movies while I catch up on all the other household chores I've been putting off, so I'm sure I'll get to it soon.
I choose to believe that Supergator battles Dinocroc to save humanity, because Supergator is the friend of all children.
Husband tells me that Gamera is actually the friend of all children.
Whatever.
Go, Supergator, go!