December 25, 2013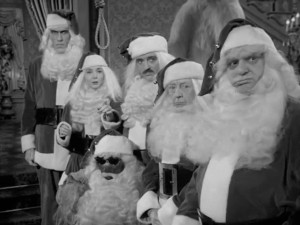 If you're looking for some holiday movies to go along with that bottle of bourbon Santa left under the tree, here's a trio that will guarantee your whole family needs therapy for years to come.
Rare Exports (2010) is a 3 year old Finnish horror/comedy for the whole (Addams) family. It's a really good movie.
The other two movies on this list? Not so much.
Santa Claus (1959) is the heartwarming tale of the year Santa fought the Devil. Santa Claus Conquers the Martians (1964) features a young Pia Zadora. Enough said. Neither of those films should be viewed in their original form. Trust me, you'll break your brain. Mystery Science Theatre 3000 (MST3K) versions of both are readily available on Netflix, Amazon, Youtube, etc.

Rare Exports trailer:


Bonus!
The Rare Exports Safety Video (a 10 minute short/sequel to the original movie):


MSTK3K presents Santa Claus Versus the Martians (MST3K edition):


Merry Christmas!
image: The Addams Family Christmas episode (1965)