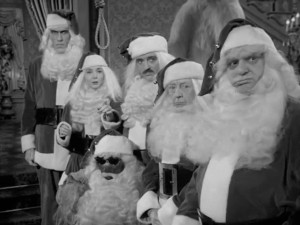 If you're looking for some holiday movies to go along with that bottle of bourbon Santa left under the tree, here's a trio that will guarantee your whole family needs therapy for years to come.
Rare Exports (2010) is a 3 year old Finnish horror/comedy for the whole (Addams) family. It's a really good movie.
The other two movies on this list? Not so much.
Santa Claus (1959) is the heartwarming tale of the year Santa fought the Devil. Santa Claus Conquers the Martians (1964) features a young Pia Zadora. Enough said. Neither of those films should be viewed in their original form. Trust me, you'll break your brain. Mystery Science Theatre 3000 (MST3K) versions of both are readily available on Netflix, Amazon, Youtube, etc.

Rare Exports trailer:


Bonus!
The Rare Exports Safety Video (a 10 minute short/sequel to the original movie):


MSTK3K presents Santa Claus Versus the Martians (MST3K edition):


Merry Christmas!
image: The Addams Family Christmas episode (1965)
This may be one of the all-time great re-cut trailers of…well, all time.
My neighborhood gets pretty festive for Christmas, but I find the amount of time and money that goes into Halloween is staggering. Fun, but a bit crazy.
I love Halloween and, admittedly, I require vigilant adult supervision in the Halloween aisles so that I don't cart home every single novelty item pertaining to bones or mummies. Fortunately, I hate clutter so I'm generally able to resist all but the very coolest items.
Up until about 1984, folklorists considered Halloween the least commercial modern holiday.
Now, like an undead neoliberal dream, the American fear of strangers shambles forth anew each year to pick pockets and fill attics with orange & black plastic rubbermaid tubs packed with tombstones, black and orange tinsel, light strings, spiderwebs, fog machines, and decapitated rubber body parts. (As of 2006, Snopes reported that Halloween was still down in 6th place in terms of total holiday retail spending, but that doesn't negate the fact that it's a multi-billion-dollar holiday).
But let's get to the candy-tampering legends, since that's the actual topic of this post and the most likely factor for this orgy of Capitalism.
In 1970, the New York Times ran a lengthy article about Halloween sadism, extensively quoting an ultra-conservative psychiatrist named Reginald Steen, who spun an elaborate tale of potential sadism and candy tampering by people emboldened by what he considered the increasing over-permissiveness of modern society.
In 1975, Newsweek reported the unsubstantiated "fact" that several children had died and hundreds more had barely escaped injury from candy tampering by strangers.
They were almost sort of accurate, in that a child did die from eating poisoned candy. In Death Makes a Holiday: A Cultural History of Halloween, David Skal describes the 1974 murder of a young boy. Ronald O'Bryan put cyanide in pixie sticks, killed his young son, and collected the insurance money. At first he was a hero because he leapt into action and saved the other neighborhood children from eating the tainted candy. Which he had poisoned.
Dubbed the Candyman by the press, O'Bryan was tried and convicted in 1975.
The National Confectioners Association worked desperately with the FDA throughout the 70s and 80s to debunk this story but were unsuccessful. Candy manufacturers were unable to avoid a changeover to individually wrapped candy, which is more expensive to produce. Additionally, the emphasis on "safe" costumes" and decorations for group celebrations encourages people to spend more money on decorations, less money on candy.
Ironically, baking Halloween-themed treats (after purchasing the specially decorated cupcake supplies or cookie cutters or black icing) is wildly popular now. It seems like it would be a lot easier to poison a batch of cookies than to concoct a nefarious terrorist plot involving individually wrapped candy. After September 11th, there was apparently an upswing in parental fears about anthrax on candy –
Or to conceal a razorblade in an apple, an action that any sane person who's ever seen an apple realizes is pretty much impossible. That's not to say that no one has ever tried it (I can't prove it didn't happen) or that kids don't attempt it for attention, concealing the damage to the apple's skin by claiming they bit into it, but I just want to point out that it's a pretty ridiculous idea.
In 1985, California State University sociologist Joel Best collaborated with folklorists to study these legends of anonymous Halloween sadists.
In "Razor Blade in the Apple," (Social Problems, 32(5):488-499), Best reports they found a lot of localized hoaxes between 1959-1985, and some attention-seeking behavior from kids, but no evidence of strangers tampering with candy.
At a time when evangelical ministers were becoming regular cultural commentators on television talk shows, satanic and ritualized abuse panics were reported breathlessly on the nightly news, and people were growing concerned that increasing urbanization would lead to isolation and the breakdown of communities, Best concluded that protecting the children from this amorphous threat with a bold gesture once a year was a way to express fears about social change without taking radical action or working for real change in society.
According to Skal, the 1982 Tylenol poisonings in Chicago caused a temporary upswing in paranoia in the National media that had consequences for the way many products are packaged, but had surprisingly little lasting impact on Halloween.
Best agrees with Urban Legends and Folklore guru Jan Harold Brunvand that legends like this persist because they have a very general underlying message that can evolve as social conditions change. He concluded that the national media played very little role in keeping the legend alive. Local communities acted out their fears in their own ways.
Just yesterday, not wanting to let facts get in the way of a click-bait story about a possible case of candy-tampering, ABC news published a story that included this:
Tampering with Halloween candy became a problem in the late 1970s and early 1980s when police departments reported incidents of children finding blades, pins and pieces of glass in their candy.
The story concludes with this information:
Beginning in 1982, the National Confectioners Association maintained a Halloween Hotline in which law enforcement agencies could report incidents of tampering, and some hospitals X-rayed children's candy for foreign objects.

Last year the NCA shut the hotline because "there is very little occurrence of tampering," said spokeswoman Susan Smith. "Tampering is extremely rare, and we don't even track it anymore because police just aren't seeing it," she said.
Oh, hey, look! (listen?) you can listen to NPR's Robert Siegel interview Greg Best about candy tampering
updated to add this article I missed on the Smithsonian Magazine blog: Where Did the Fear of Poisoned Halloween Candy Come From?
I wanted to write a really great conclusion to this post, but now all I can think about is making grilled cheese bats, so instead here's the trailer for a fun Halloween movie, Trick-r-Treat:
I haven't had time to read any reviews for the new Friday night TV show, Dracula, so I kept forgetting to look forward to its debut. I haven't noticed much publicity for the show and Husband doesn't think he'd have been aware of it at all if I hadn't Tivo'd it.
In this respect, and so many more, this show has lived down to our every expectation.
There aren't any spoilers here, because nothing happened in the pilot episode.
Nothing.
This show makes Dr. Who seem like Mr. Toad's Wild Ride.
(Husband just pointed out to me that Mr. Toad's Wild Ride is actually known as the Wind in the Willows to people who were not raised by wolves and/or Disney. And also that I must be thinking of the ride, because the movie Wind in the Willows is rather slow moving).
Not the point.
There is no point – not to my story, not to this show.
As soon as you accept that, you will enjoy Dracula. It'll be on for at least 5 more weeks while they burn off the investment, so go ahead, don't be afraid to commit to at least a fling.
With its elaborate sets and drawn-out scenes of minimalistic yet overwrought dialogue, punctuated by lengthy, action-less sequences where the actors may actually just be reading a dictionary to one another, Dracula is like a 1960s House of Hammer summer-stock performance of Dark Shadows.
Sample scene:
"Insatiable. I-N-S-A-T-I-A-B-L-E."
"Unquenchable. U-N-Q-U-E-N-C-H-A-B-L-E."
Okay. They weren't really spelling the words after they said them, but it would have livened things up just a scosche if they had.
The original Dark Shadows was a terrible high-camp show that ran from 1966-1971. Each revival since has been met with teeth-gnashing and displays of nostalgia and expressions of a woefully misguided belief that the show was even remotely "good."
Who knows, perhaps Dracula will be able to leverage its flagrant disdain for quality into an equally long run!
The characters all look alike, which is a problem because we can't figure out who anyone is or which side they're on. Maybe there aren't any sides.
I have no idea.
I'm pretty sure that Dracula, now calling himself Grayson, has been resurrected in 1896 and is pretending to be a rich American inventor.
And he's out for revenge. Or he's passionate about patent law. Or his pants are too tight.
I really have no idea.
Husband says Dracula/Grayson is definitely out for revenge. He hopes Dracula/Grayson will attend Revenge Academy, like Emily Thorne apparently did before taking revenge on characters named Grayson on the show Revenge.
Maybe there'll be a cross-over story arc! Revenge has gotten incredibly tedious, so that would be pretty great.
Dracula and a major character who looks just like many of the other characters who may or may not be main characters are having a dramatic conversation. We can't remember who this guy is or what his name is, so Husband is referring to him as "Beardy" because he has a beard. We missed most of the scene because we were debating whether he was the character who'd had his throat ripped out in an earlier scene or if he just looked like him.
In closing, this is a bland show. It's like low-sodium saltines. But with the application of just a tiny bit of emoting and Acting, it could be like low-sodium saltines with Nutella on top.
Maybe. I don't know. Much like the pilot of Dracula, this post has run out of steam and is just staring longingly into the camera, sighing at irregular intervals.
Hey, here's a funny video Husband showed me. Pumpkin Spice: Official Movie Trailer.

I'll have to add that to the round-up of
links mocking the consumerist compulsion for everything to be pumpkin or pumpkin-adjacent from September to December
.
Which reminds me that I still haven't read Cindy Ott's Pumpkin: The Curious History of an American Icon.
"It's a vegetable that represents this idyllic farm life, and the best sort of moral virtue. And Americans have become attached to that," [Ott] says.

And though pumpkin beers and pumpkin breads have been produced since colonial times, Ott says that they weren't always the specialty foods that they are today. "Pumpkin beer was used when there was no barley. [If] there was no wheat for bread, they used pumpkin [for] bread," she says. "Pumpkin was considered food of desperate [times]."

The rehab of pumpkin's popularity began when 19th century Americans began to move away from rural life and into the city, Ott says. "People became stressed about… moving into the office and off the farms, and [the pumpkin] starts to appear in poems and in paintings," she says. "We're celebrating the nostalgia for this old fashioned, rural way of life, that no one ever really wanted to stay on, but everyone's always been romantic about."
The rest of that NPR story from 2012 about pumpkin-nostalgia gone wild is here.
Merry Christmas from this thing – which is apparently a toddler-sized animatronic raccoon that has lost it's ski poles and is now futilely miming skiing – and not, as I originally thought, a toddler-sized animatronic squirrel miming lewd acts in our general direction.
It's part of this yard, which I couldn't even get a full picture of:

You can read about it here.