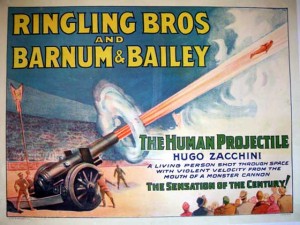 (Ringling Brothers promotional poster for the Zacchini Brothers Human Cannonball Act)
Sometimes I forget what a bunch of weirdos you all are. When I mentioned human cannonballs on facebook yesterday, that wasn't a euphemism.
Mario, the last of the original Zacchini Brothers, passed away in 1999.
I found a trailer for a possible documentary on youtube:
My (admittedly short) search didn't turn up any evidence that this project was completed.
In semi-related muppet news, how great is this Stuntman Gonzo Action Figure (with cannon)? Love.