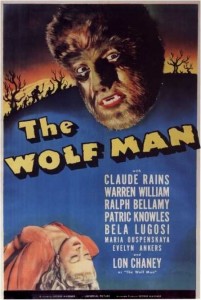 There's so much annoying stuff like life and school that's always threatening to interfere with the highlight of the year: Halloween. I mean, really.
I will not be deterred. I've been contemplating a theme for months, although I haven't had an easy time making a definitive choice.
I don't know if I can be as ambitious as I was with 2010's 31 Ghosts, but still, October 2012 needs a theme and Halloween is too generic.
I was thinking witches or werewolves, probably because my Tivo, Overlord II, keeps recording The Craft and Ginger Snaps every single time they're on. A witch-themed October runs the risk of aggravating me because most movies about witches are filled with misogynistic bullshit or superfuckingannoying new agers, and that will distract from the fun. Drunken ranting mixed with critical theory? Never ends well.
I thought I'd covered Werewolves, but I was mistaken. I considered it in 2009, but clearly didn't get very far.
Then I thought, what the hell? why not Witchcraft and Werewolves?
Just for the record, I don't think this is a binary topic, Witchcraft OR Werewolves. I think there's an interesting intersection of the werewolf and witchcraft genres in movies (or TV shows or books or graphic novels) where people transform into non-lupine creatures. Come on, you know there are going to be tangents and random selections made by Overlord II and things like that, anyway, so let's just build in a little flexibility into the system and be done with it. There are loads of great examples, if you don't believe me:
Wolverine? Maybe.
Maybe not. Probably not, because that was a terrible movie.
Plus other movie examples I've forgotten in the time it took me to type the last sentence and look up the links to both the 1942 and 1982 versions of Cat People and then spend a few minutes contemplating that Ronin Tunney is the girl in The Craft, which I looked up on IMDB a few minutes ago when I linked my earlier reference to it, and Robin Tunney looks familiar because she's the boss on The Mentalist, which is a deeply stupid show I can't stop watching even though I find Patrick Jane incredibly unsympathetic and the entire premise of the show a farce and the repetitive incidental music annoys the hell out of me and why the fuck has that show been on for FIVE seasons? This is the SIXTH season? Does the devil own Bruno Heller's soul? Apparently not, since he was one of the producers of the failed Bionic Woman reboot. Not even, he was only the producer of the unaired pilot of the doomed series. But still, what the hell?