Recently, my favorite contrarian, Casey Rae, mentioned that he was running out of jokebooks with bad puns and corny riddles suitable for precocious little girls. Being raised by such eclectically gothy parents, and being whip-smart, I knew exactly the book their kid needed, because I adored it myself: Normal Bridwell's Monster Jokes and Riddles.
It was probably my very first book fair purchase with my very own money. If, by "my very own money" you mean: "money my parents gave me for the book fair." Which I probably do – the details are hazy.
I hadn't thought about this book in YEARS, but I remembered how much fun the illustrations were and how funny I thought the jokes were. It was fun to re-connect with the source of a great deal of childhood joy.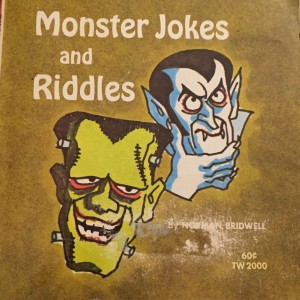 Front Cover: Norman Bridwell's Monsters Jokes and Riddles (1972)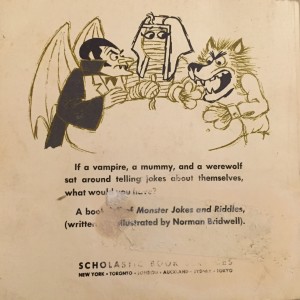 Back Cover: Norman Bridwell's Monsters Jokes and Riddles (1972)
My parents probably found this book to be less of a source of joy, because the jokes? The jokes are terrible.
And I loved them.
How terrible?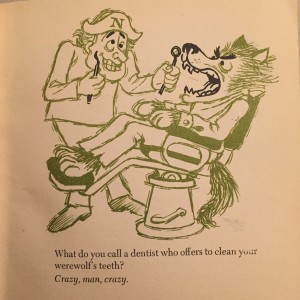 I'm pretty sure my mom used to hide the book under my bed in hopes I'd forget about it and quit telling her these jokes over and over and over.
Author Norman Bridwell is perhaps best known as the creator of Clifford of the Big Red Dog.
By the time I got my hands on this book, I'd heard vampire stories from my grandmother, who wasn't as skilled in the art of the bedtime story as maybe she could have been. And I was terrified by Abbott and Costello Meet Frankenstein the first time I saw it. I think I understood it was a comedy, but…monsters!
I realize now that I was participating in a larger cultural shift that transformed classic cinematic and literary monsters into humorous commodities on which children could spend their allowances. David Skal's The Monster Show: A Cultural History of Horror is an excellent place to read up on that subject. I didn't understand that at the time, of course, but forty years later it's my professional life, so I figured I should provide you with at least one reading assignment.
Abbott and Costello aside, Brother and I certainly weren't allowed to watch horror movies. The closest thing I got to horror was the Gothic lunacy of Disneyworld's Haunted Mansion, which I still adore.
I'd never thought about what my first exposure to mummies was, but this silly joke book was probably it.
What did the Pharoah say when he saw a lot of boll weevil bugs from the cotton fields stealing a mummy? "Mummy is the loot of all weevils."
Needless to say, the joke book was an instant hit in Casey's house. I bet he's heard the one about what happened when the Frankenstein Monster asked for the girl's hand in marriage (that was all he got) about a thousand times by now. I guess they're still really busy enjoying it, because Casey hasn't returned any of my texts!
Only kidding.
Casey's probably avoiding me because of that other thing…