September 21, 2015
I was out at the local coffeeshop not caulking the bathtub in our guest bathroom when I ran into a friend who asked me why I wasn't at home re-caulking the bathtub like I said I was going to be.
I've been avoiding re-caulking that bathtub for 6 weeks. I've spent more time talking about re-caulking the bathtub than any human ever spent actually re-caulking a bathtub.
All the messy stuff – the cleaning and scraping – has been done for ages. I just have to squoosh the caulk onto the places where you have to have caulk to, um, keep the bad things from happening. (Still not Martha Stewart, in case you were under the delusion I was actually getting the hang of this shit).
I told my friend I was off the home improvement hook because I'd taught our monkey butler how to caulk.
The woman at the next table flipped out, because caulk is toxic and I shouldn't be letting an animal handle it without supervision.
I think any animal cruelty issues here would begin and end with the words "monkey butler," but she left in a furious huff before I could explain that our monkey butler is, to the best of my knowledge, a complete figment of our imagination.
I think I should maybe try to remember to let Husband know that some of the neighbors may think we're terrible people who have a monkey butler.
I'm starting to think that Popemania is making people a little crazier than usual. Soon after, while I was still at the coffee shop and still not caulking the bathtub, a person I've never laid eyes on before marched up to our table and accused me of breaking into a warehouse and stealing a copy of Jenny Lawson's new book, because it's not being released until tomorrow but I clearly had a copy right there in my non-caulking hands. (Wait…Was she suggesting that The Bloggess has her own warehouse? I really need to read her blog, don't I?)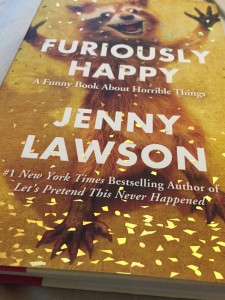 Image: a not-stolen copy of Jenny Lawson's
"Furiously Happy: A Funny Book About Horrible Things."
I also think it would be awesome to have a monkey butler, even though Jungle Pete has been berating me about how this is a terrible idea since we were 12 years old. And he's absolutely right, but I hate admitting he's right.
I don't actually hate admitting Jungle Pete is right, but originally there was a punchline that depended on a setup wherein I admitted to hating to admit I'm right to Jungle Pete. It wasn't funny so I scrapped it. I don't know why I left this part in the post. What can I say? I've spent the better part of the year desperately ill and then impatiently trying to recover and I may have broken the part of my brain that remembered how to blog.
I do, however, hate how much I secretly wish we had a monkey butler. Even though I think keeping captive primates in your home is a terrible thing.
(But…monkey butler).
In other news, I still haven't cracked open The Bloggess's new book, but it took less than 20 minutes to re-caulk the bathtub. It probably would have only taken 10 minutes, but I had to go upstairs to retrieve the paper towels and I procrastinated for a few more minutes by emptying the dishwasher.
Plus, I couldn't avoid re-caulking any longer because we have a guest arriving on Wednesday (who isn't the Pope) and who will probably want to take a shower or two sometime over the next week and probably wouldn't be too keen on my caulk-avoiding alternate plan, which was to spray her with the hose in the backyard. With our luck, that would be the moment animal control shows up to investigate monkey butler allegations.