That title sounds like the lead-in to a post about craptacular SyFy movies. Or maybe a political post about the rhetoric around the NeoLiberal military-industrial complex. Sadly, it's about neither of those things. Nazi War Diggers is an upcoming 4-part series on National Geographic International. TV Wise announced it will begin airing on May 13th.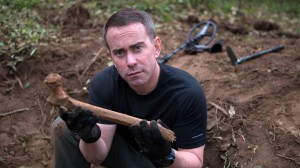 Photo posted on Nazi War Diggers show site
NatGeoTV, which is owned by FOX and promoted as a partnership with the National Geographic Society, already airs an ethically-challenged show called Diggers. Despite critiques by professional associations such as the Society for American Archaeology, the show continues to air and is now in its third season.
The clip posted yesterday on the Nazi War Diggers website showed these self-professed metal detector enthusiasts digging up human remains from an unmarked Latvian grave. The clip has since been removed but the page remains and the publicity photos were still online as of this afternoon.
I've been rounding up blog posts about the show.
Bioarchaeologist Kristina Killgrove (Powered by Osteons blog): "Who needs an osteologist, volume 11."
John R. Roby (Digs and Docs): "We don't need a TV show about looting Nazi battlefields."
Archaeologist Paul Barford (Portable Antiquity Collecting and Heritage Issues blog): "National Geographic use metal detectors, find new low."
Conflict Antiquities: "urgent ethical and legal questions for National Geographic, ClearStory and their Nazi War Diggers."
Alison Atkin of Deathsplanation summed up my feelings with an animated gif: "Nazi War Diggers."
Archaeologist and TV producer Annelise Baer (Archaeologist for Hire blog): "Let's talk more about Nazi War Diggers."
I'll add posts as I run across them.
Added March 28, 2014: Nazi War Diggers, part II.