March 9, 2014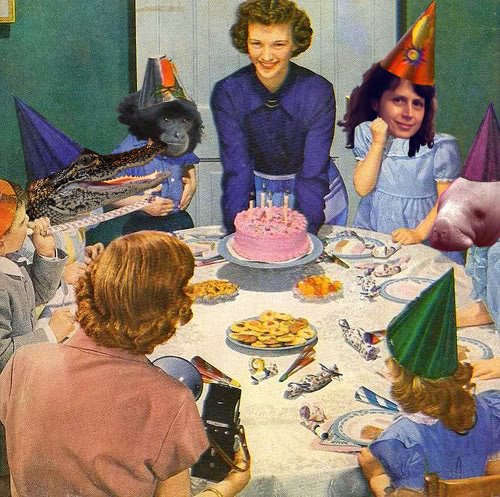 I don't know the original source of the image or any of the important things one should know before posting an image publicly, so I'll take all blame for sharing it here.
My pal Sal made me this hilarious rendition of the party he'd throw me if he could invite monkeys, manatees, and gators to a birthday party. Safely, I mean. You could cart all three into a room and dress them up and give them cake. I guess…
Once.
I think the card/imaginary party is a safer way to go.
Less cleanup.
Also, fewer chances of any sort of Fish and Wildlife Service or other law enforcement intervention. The older I get, the less desirable these things become.
I've been neglecting you a bit mostly due to illness and then some unsuccessful adventures in re-theming this site. I've been too stubborn to give in and hire a wordpress guru, but I'm getting close to admitting I can't roll my own any longer (a conclusion I should have reached a long time ago, I know).
I'll be back soon – expect a post on Monday about the craptacular 2008 SyFy movie, Lost City Raiders.
Just as soon as I sober up.
Not from my birthday, from the Lost City Raiders viewing session. It's a doozy, but I mean that in the best possible way.