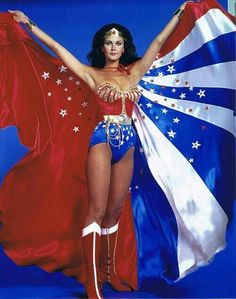 Welcome back to our Wonder Woman rewatch. Husband and I re-watched every episode of one of our favorite childhood shows and now we're blogging about it, episode by episode. Well, I'm blogging about it, he's more bartender, innocent bystander, and copy-editor.
Before we launch into the Season 2 episode posts, I thought I'd share the updated title sequence and theme song, which should have taken all of 17 words and an embed code, but you know how it goes…
In the seven months between the Season 1 finale on ABC and the season 2 debut on CBS, Wonder Woman underwent some changes, notably the updated current-day (1977) setting. We know it's the '70s because there's a lot of jazz flute now and Steve Trevor's lapels are frequently wider than his head.
The Saturday night debut and subsequent move to a regular Friday night time slot were undoubtedly cause for many a slumber-party celebration.
Maybe the television critics back then should have tried having slumber parties, because a tip-toe through some old TV review columns in major newspapers reveals a lot of cranky dudes gnashing their teeth & rending their garments in soul-crushing agony over the Fall 1977 season. The sub-title of John O'Conner's column got straight to the point: "A Season of Trash." ("TV Weekend: A Season of Trash," October 2, 1977, New York Times).
In another column, O'Connor points out the absurdity of a CBS executive openly mocking ABC's silly super-hero shows, since CBS had not only just acquired Wonder Woman but was also about to debut the live-action The Incredible Hulk in primetime. ("TV Weekend." November 4, 1977, New York Times).
James Brown (not that one) called Wonder Woman's Season 2 premier ponderous, because he was clearly not a 7 year old girl and also clearly didn't know awesome when he saw it. (James Brown, "The New Adventures of Wonder Woman." September 16, 1977, Los Angeles Times).
Yes, the 2nd season can be a bit ponderous if don't fully embrace the wacky camp. But if you do, it's pretty good. Not great, but good. Goodly. Good-esque. Medium-good. Definitely good-adjacent at all times. (Hang in there with Season 2, because it all builds up to the madcap 3rd season, when the writers ran out of fucks to give about logic and coherence).
Along with the new setting and cast, Season 2 gets an updated theme song with some updated lyrics and of course updates to the looks the characters sport in their live-action jump-outs.
[update: I had to remove the youtube clip I originally embedded because it had been edited and didn't accurately reflect the 2nd season title sequence. Here's an accurate version]
I got a little distracted while writing this because I kept running across interviews where Carter talks about how she believes in pyramid power and uses "pyramid-treated, or energized, water" to keep her cut flowers fresh longer. (Lydia Lane. "Beauty." December 19, 1976, Los Angeles Times).
See you Monday for The New Adventures of Wonder Woman: "The Return of Wonder Woman" (2.1)!