At last, we come to the season one finale, "Wonder Woman in Hollywood" (1.14), which aired on ABC on February 16, 1977.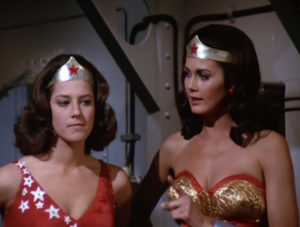 At last, we say goodbye to Nazis, but we must also say farewell to Etta, the General, and Steve. But first, we welcome back Diana's kid sister, Drusilla (Debra Winger); we discover that Paradise Island is a constitutional monarchy; and, at long last, we learn why the hell Steve Trevor is considered America's Greatest War Hero.
Before we plunge into the episode, you should take a few minutes to watch Debra Winger's 1993 appearance on The Late Show with David Letterman. Even though she's there to promote a movie, she gamely talks about Wonder Woman, the costumes, and how hard it has been to live down a role like Wonder Girl. Then Dave plays a clip that helpfully gives you a sneak peak at "Wonder Woman in Hollywood." Be sure to watch to the end, because Winger is a really good sport about the whole thing.
Now, on with the show!
After the title sequence: the episode opens with some stock war footage before revealing that Major Steve Trevor (Lyle Waggoner), Yeoman Diana Prince (Lynda Carter), General Blankenship (Richard Eastman), and Private Etta Candy (Beatrice Colen) are sitting in a screening room with Hollywood producer Mark Bremer (Harris Yulin).
Bremer pitches them a new project to raise money for War Bonds, which the General summarizes for us so we only have to suffer through a bare minimum of expository dialogue: "Four top American heroes recreating their acts of bravery on the screen."
Which definitely sounds like a great thing to do to traumatized veterans, doesn't it?
Diana convinces Steve to be in the movie, since he is a huge Hero for safely landing his flaming plane and saving his crew.
The writers have had 14 episodes to concoct a heroic backstory for Steve that would plausibly make him a war hero so famous he's a household name around the world, and that's the best they could come up with? Don't get me wrong, it sounds heroic. But the most heroic? The thing that leaves Nazis quaking in their boots and gets 10 year old orphans out of bed every morning? In that context, it seems a little thin.
The General tells Steve to leave for Hollywood immediately, because it's not like there's a war on and Steve is the head of the Intelligence Division of the War Department or anything.
There aren't any dates mentioned in this episode, but I think we can safely assume it's September 1942.
Steve orders Diana to accompany him to Hollywood.
Diana doesn't understand what's so special about this small suburb of Los Angeles. Silly Diana! Hollywood is the center of the Universe! Hollywood is every beautiful girl's dream! Hollywood is the greatest!
As the gang waxes rhapsodic about Hollywood, Etta calls it "Paradise U.S.A."
Paradise! Diana loves Paradise! She is S.O.L.D!
Paradise Island – An Uncharted Body of Land Within the Bermuda Triangle
Kooky Queen Hippolyta (played by the divine Carolyn Jones) hangs out with Drusilla in someone's grandmother's living room.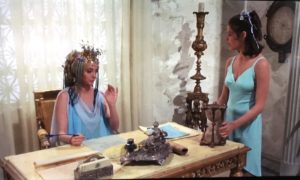 The Queen is in the midst of giving Drusilla the details about a 3 day festival of some sort. The festival needs a queen, as described in the Paradise Island Constitution, but the reigning Queen of the Amazons can't serve as festival queen, a detail that's also stipulated in the Constitution.
Wait. What? Paradise Island is a constitutional monarchy? How long and specific is their constitution? Does it spell out the details of other festivals, or just this one? Why does the reigning Queen get to name the festival queen? How much power does a festival queen have, exactly, that it is legally verboten for the reigning queen to also be the festival queen? This all begs the question: why is it then okay for Hippolyta to appoint her Princess daughter – the heir to the throne – to be festival queen?
Apparently, I have a lot of questions about Amazonian festival governance.
To be fair, this Bi-Millenial Festival, which celebrates 2000 years on Paradise Island, seems like a pretty big deal. I can see why the Queen wants her daughter Diana there, but I'm still calling bullshit on Diana being named the festival queen.
Drusilla volunteers to hop into her invisible jet to go remind her older sister Diana about the festival.
Hippolyta reminds Drusilla that Diana is in a place called Hollywood.
Why the hell does Drusilla need to burn all of that invisible jet fuel delivering a message in person, when the Queen has clearly been in very recent communication with Diana?
Before we can think to much about that, Hippolyta reminds Dru that things didn't go so great last time she went to America. Oh, you mean that time 9 episodes ago back in September 1942 when Dru accidentally told the Nazis how to find Paradise Island and they invaded, enslaved the Amazons to mine Feminum, and planned to pack them all off to Berlin for breeding and experimentation? You forgot about that?
Ah, well. No harm done, so…Drusilla skips out the door and now it's Title Card Time: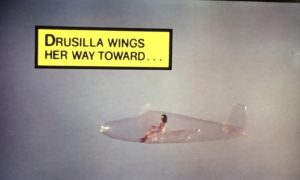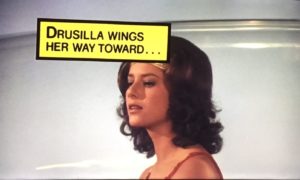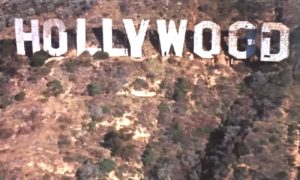 By the way: my screenshots are from remastered HD streaming episodes, hence the strange aspect ration compared to the original broadcast format.
I'm not going to make fun of these title cards, because I'm pretty sure kid-me thought transitions like this were ah-mazing. To be honest, adult-me still likes them.
A jaunty instrumental arrangement of "Hooray for Hollywood" accompanies a stock footage montage of 1940s Hollywood. It's a little jarring since it's a mixture of black and white and color footage, but it sets the scene well enough, quickly focusing in on the Warner Brother's studio lots and, finally, to the Four War Heroes ReEnact Their Heroism, Heroically soundstage.
Fine. I don't really know what the movie is called, but let's go with that.
On the soundstage: it's the first day of shooting!
(Again I ask: how does the Queen already know Diana is in Hollywood?)
It's time for Hero Steve's dramatic re-enactment of the time he landed his airplane without killing his crew, making him America's Greatest War Hero.
As the camera rolls Diana spots a dangerous situation! She ducks away, spins into Wonder Woman, fixes a light rig that's about to collapse, and changes back in to Diana before anyone is the wiser. Unfortunately, the light wobbled a little, but no one on the set saw Wonder Woman save everyone's lives and the director blames Diana for ruining his shot.
Diana endures the humiliating verbal wrath of the director, smiling valiantly as the crew stares scornfully at her.
I feel like this scene is a metaphor for the invisibility and devaluation of women's labor.
Outside the Warner Brothers Studio : Drusilla arrives in her Paradise Island slip dress, having forgetten that 1942 has a dress code. Luckily, it's Hollywood. The guard assumes she's in a Greek costume drama and shoos her onto the lot.
Back on the set: Diana meets War Hero Corporal Jim. Hero Jim is played by Robert Hays who is basically warming up for his role as Ted Striker in Airplane (1980).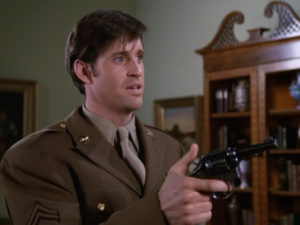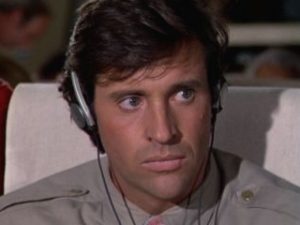 (Top: Robert Hayes in Wonder Woman. Bottom: Robert Hayes in Airplane).
Hero Steve sends Diana to fetch him coffee.
Dru finds Diana – just in time for the two of them to see Hero Jim get chloroformed by some guys. Diana spins into Wonder Woman, jumps over a car it would have been easier to run around, and saves Hero Jim. While she saves Drusilla from getting run over, the bad guys get away.
Wonder Woman spins back into Diana before she helps Hero Jim off the pavement. Dru thinks hero Jim is cute.
Diana assures Dru that she knows the once in a lifetime big deal Amazonian Bi-Millenial Festival is coming up, but she can't leave because she's worried someone is trying to sabotage the film set.
Diana has no sense of proportionality. That's okay, neither does Hollywood.
This scene contains the requisite "we're on a hollywood movie set" sight-gag wherein the scenery behind two characters begins to move, revealing an illusion within the illusion, as crew-members carry or wheel away the backdrop.
The whole episode is, of course, firmly in the genre TV Tropes calls "Who Would Want to Watch Us?"
"The most common gag that leans on the fourth wall is when the characters are associated with a movie or TV production of their own adventures. If the idea is not just laughed off, the adventurous group have Hollywood types wanting to make an adaptation of their exploits. Further fourth wall fun can be had if the production crew within the show are made to resemble the production crew of the show itself, or parodies of them."
That TV Tropes page has an extensive list of shows, movies and other media that employ this trope, but if you go down that rabbit hole right now you'll never come back. So, don't.
That night, Diana takes Dru to a fancy Hollywood party at Bremer's house and/or office. I'm not clear on whether his office is at his estate or if he has two houses or what.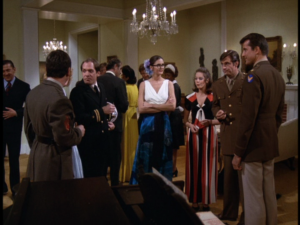 At the party: glam movie star Gloria (Christopher Norris) lures Hero Rand (Ross Bickell) to a private room. It's a trap! Those men show up again and abduct Hero Rand.
After the party: Kurt (Charles Cypher), a Nazi, drops by to speak to Bremer. Whoa. It turns out Bremer is a Nazi! Nazis! Who saw that coming? Bremer and Kurt scheme. They plan to take the Four War Heroes of the Apocalypse back to Berlin to be tried for their war crimes.
Bremer is an even bigger fiend than you can imagine! His endgame is to control the entire American film industry!
The Following Morning at WB Studios
Bremer tells Hero Steve and Diana that Hero Rand is missing so they'll be striking the Navy Heroism set and preparing the Escape from the Nazi Town Heroism set.
Meanwhile, Dru and Hero Jim are at a coffee shop so Dru can indulge her love of ice cream.
Some creeps harass Hero Jim while Dru is in the powder room, but she's watching out for him. Dru spins into Wonder Girl and kicks some butt, but later Hero Jim tells Drusilla he kicked those butts himself. Drusilla is disillusioned. Hero Jim is a liar!
On the movie set: Hero Willard (David Himes) prepares to re-enact his heroic run through a Nazi town.
Diana and Hero Steve think the flurry of faux Nazi talk is hilarious. We think Lyle and Lynda are actually laughing so they don't cry about what they've endured throughout this entire season.
Hero Willard re-enacts his heroic run, emerging from the back of the set into the waiting arms of…Nazi spies disguised as actors in Nazi costumes.
So, we have actors playing Nazis playing actors playing Nazis. Got it.
On a Submarine: Nazis hold Hero Willard and Hero Rand captive. It's a short scene and I kinda spaced out, but I don't think much happened.
At Bremer's office: Bremer instructs Kurt to speed things along by abducting Steve and Hero Jim at the same time.
At a diner, Dru tells Hero Jim that she thinks hot dogs are even better than ice cream.
Hero Jim has to decide whether to tell her that's some bullshit about hot dogs or confess his dark secret. Hero Jim chooses to confess:
That's not really what he confesses, that's a gag from Airplane. What he actually confesses is that he's not really a hero. He didn't capture any Nazis in Europe: he tried to surrender to them but they surrendered to him first. He also fesses up about Wonder Girl beating up the bullies.
Then he takes a phone call, freaks out, and leaves.
The Next Day at the Studio
Hero Jim and Hero Steve are late! More Hollywood magic sight gags ensue as the crew nonchalantly constructs mountain scenery in the background using rubber boulders.
On the road: Hero Jim and Hero Steve are captured. Hero Jim cooperates with the Nazis because they're holding his parents hostage.
On the Nazi submarine: the Nazis tell Hero Steve and Hero Jim they're leaving for Berlin.
When the Nazis close the door, we see that it's not a real submarine at all! It's a film set! Nazi trickery disguised as Hollywood trickery! Or is it the other way around?
If only the Nazis knew that Steve is an idiot and they don't really need a ruse this elaborate to keep Steve from finding out Bremer is involved.
Later that Afternoon Diana Plays Detective
Apparently they thought viewers needed a title card to make sure we understand what we see in the next few scenes, which is Diana playing detective later that afternoon to find Gloria.
Diana spins into Wonder Woman and uses her Golden Lasso to question Gloria about where Bremer goes when he's not in his office: his estate and Studio 12!
At Bremer's office: Bremer and Kurt hold Hero Jim's parents hostage. Or maybe the office is at his estate? Maybe the party was at his estate? I don't really know or care.
Wonder Woman and Wonder Girl break into Studio 12 and find a fake submarine, but no prisoners.
Wonder Woman and Wonder Girl run down the road towards Bremer's estate. They have an invisible jet and Diana knows how to drive, but they just start running. They run down the road and out into the country. And then they run some more.
At the estate: Hero Jim sees his parents.
Out on the road: Wonder Woman and Wonder Girl are still running.
I don't know what Debra Winger and Lynda Carter got paid, but I'm pretty confident it wasn't enough.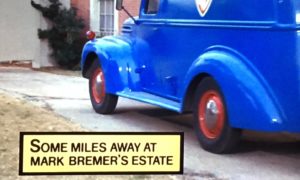 When they reach Bremer's estate: Wonder Woman and Wonder Girl tackle the Nazis. (You can see some of this great running and tackling and golden lassoing in that Letterman clip at the top of the post).
Wonder Woman busts in to the house! Wonder Woman gets shot!
Hero Jim charges at Bremer, who shoots at Hero Jim. Wonder Girl deflects the bullets and saves Hero Jim. Hero Jim captures Bremer.
Wonder Woman isn't hurt at all! She tricked everyone into thinking she was hurt so that Jim could have chance to prove himself. (I guess J. Walter Weatherman wasn't available).
We're all so proud of Hero Jim! He sure learned his lesson about being a Nazi collaborator! And got his self-esteem back in the bargain!
Hero Steve compliments Hero Jim for his heroism. Hero Jim appreciates the fatherly validation Hero Steve bestows upon him. Hero Jim wishes he could spend more time with Wonder Girl, which makes Hero Steve laugh and say "…and Wonder Woman" in an innuendo-drenched way.
Seriously, we're expected to believe that Hero Jim and Hero Steve are 2/4 of America's Four Greatest War Heroes? These guys, who don't think it's weird at all that Wonder Woman has a kid sister and that Wonder Woman and her kid sister just happen to be on the set of Great Heroes of Heroism, which is also the movie set Diana and her kid sister are hanging around?
Fine. Let's just move along and not think about that, because it's almost time to kick all this Nazi stuff to the curb.
Sometime Later in Washington, D.C.
Etta, the General, Steve, Diana, and Dru are back in the theater watching Four Great Heroes of American Heroism Re-enact Their Heroic Heroism.
It's the greatest movie of all time!
The episode ends with Steve, Drusilla, and Diana leaving to eat some hot dogs and ice cream. Dru wants to eat all of the hot dogs she can before she returns to the women-only land of Paradise Island. If I can let ignore that, so can you, so let's just keep going. After dinner, Diana and Dru plan to head back to Paradise Island for "a family celebration."
Good-bye, Nazis! Good-bye, boring military wardrobes! When Wonder Woman returned to the airwaves for the second season, the show jumped networks (from ABC to CBS) and jumped ahead to the 1970s. Alas, that means we also bid farewell to Etta Candy, General Blankenship, and Steve Trevor.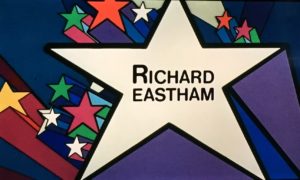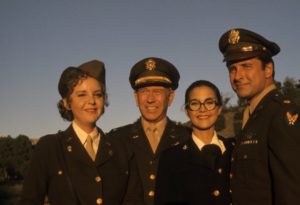 Steve Trevor Senior, that is. It turns out that Steve Trevor is so obtuse because he's not entirely human. He's a humanoid-starfish-type organism that can generate an exact replica of itself at any age of its choosing at any time in its lifespan so 35 years later he generates a young version of himself, Steve Trevor, Junior, who is also an idiot who constantly ends up in need of rescue. OK, fine, I made the part about starfish-parentage up, but as the writers blend increasing amounts of science fiction to the fantasy elements, you'll start to believe it's possible. And certainly not that much more ridiculous than the actual premise, which is that Steve's son is essentially his identical twin.
This episode contains:
Amazons
Bullets and Bracelets
Chloroform
Consciousness Raising
Fake Submarines
Golden Lassos
Heros
Hollywood
Hotdogs
Ice Cream
Invisible Jets
Jumping
Mansel in Distress
Nazis
Nazis disguised as Nazis
Paradise Island
Spinning
Wonder Girl