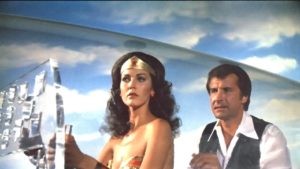 In my last post I described some of the changes Wonder Woman underwent when the show switched networks between Seasons 1 and 2. In September 1977, CBS debuted the 2nd season with a contemporary setting and relatively new cast. With prolific television writer Stephen Kandel behind the typewriter and veteran camp/sci-fi/procedural director Alan Crosland calling the shots, the revamped series got off to a Nazi-free start with the 73 minute episode "The Return of Wonder Woman."
Somewhere Over the Caribbean – 1977
U.S. Government Security Agent Steve Trevor (Lyle Waggoner) and some nuclear scientists are aboard a top secret government plane en route to a top secret conference.
Steve says their objective at the conference is to announce that they'll be building a secret nuclear power plant in the fictional Latin American nation of Samarra.
The nuclear scientists find this idea dubious. Building an American nuclear plant on foreign soil where the U.S. may not be able to fully protect it will thwart terrorists who've been blowing up U.S. nuclear facilities…how, exactly?
Steve Trevor has apparently neither aged nor learned anything in the 35 years since we saw him last, because this sounds like a terrible plan.
Within Dr. Solano's Headquarters – Secluded in Washington, D.C.
Doctor Solano (Fritz Weaver) watches surveillance footage of the secret plane because the cabin steward is one of his henchmen. He hears Steve explaining the secret plan.
Guess the high security plane isn't so secure, after all.
The plane enters the mysterious Devil's Triangle! AKA the Bermuda Triangle! I hope nothing bad happens!
Solano's inflight henchman gases everyone on the plane.
He also gases the pilot and co-pilot, which may or may not have been part of the plan.
Before the henchman can get his gas-mask on, Steve knocks him out.
The henchmen released some kind of knockout gas from a canister, he doesn't have critical flatulence. Just so we're clear.
If you're keeping score at home, Steve Trevor has already been rendered unconscious and we're only at the 00:05:50 mark.
Everyone is unconscious!
The plane is going to crash!
Or is it?
Lucky for Steve and his band of nuclear scientists, the plane breaches the magnetic field which protects Paradise Island from the prying eyes of the outside world.
Paradise Island – An Uncharted Body of Land in the Bermuda Triangle
The Paradise Island Science Council takes control of the plane and lands it safely. They've had invisible jet technology for at least 35 years so I'm willing to buy this.
Diana (Lynda Carter) and her cousin are cavorting on the beach in chiffon mini dresses, like one does.
Diana runs to the plane to offer assistance.
Run, Diana, Run!
Diana enters the plane and finds her old pal Steve Trevor lying unconscious. How can this be? He hasn't aged a bit! Does he age slowly, like an Amazon? It must be Steve Trevor, because he looks just like Steve Trevor.
And look: he's unconscious! That confirms it, don't you think?
Queen Hippolyta (now played by Beatrice Straight) explains to Diana that ordinary humans breed and this big handsome sack of meat is Steve Trevor Junior, son of Steve Trevor Senior.
Steve Junior is just like Steve Senior! He's patriotic! He's the greatest living spy! He's an idiot! He is, indeed, essentially a clone!
The Amazons question all of the outsiders under hypnosis, although thankfully that all happens off camera or this episode would be 6 hours long.
The terrorist henchman confesses that he's working for terrorists.
Terrorists sound as terrible as Nazis, so the Amazons vote to send Wonder Woman back out into the world of men.
Wonder Woman is always yakking about how Paradise Island is full of peace and love and equality, but the Amazons seem awfully passive-aggressive. Before Diana gets the Queen's final approval to go do her thing, Evadne (Dorrie Thomson) says: "In the spirit of sisterly competition and in keeping with the traditions of Paradise Island I challenge my cousin the Princess Diana to the supreme test: Bullets and Bracelets."
She doesn't so much say it as woodenly recite it like she's reading off a cue-card, but who am I to judge? Besides, the Amazons were renowned for their bravery and fighting skills, we don't know about their reputation as actors.
Turns out, you can't be hurt at all while wearing Feminum bracelets so Bullets and Bracelets isn't nearly as scary as we used to think it was. Whew.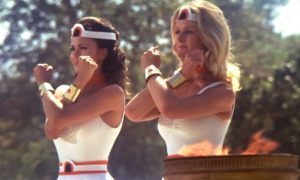 By the by, rules of Bullets and Bracelets have retroactively changed. The goal is now to protect a target by deflecting bullets, which is way less dangerous than before when they shot at each other's faces.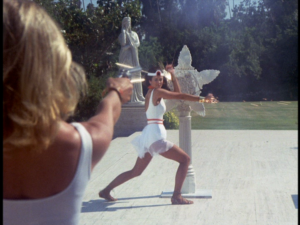 Diana wins, of course.
The Paradise Island Doctor hypnotizes Steve. She brainwashes him into accepting Diana as his new assistant "on an unconscious level" and a thousand jokes write themselves.
Hippolyta retrieves Diana's accessories from a storage area that seems to be a premonition of what would happen if Martha Stewart and Marie Kondo did a team-up. Oh gods and goddesses, the 70s were a time when brass ruled the roost, weren't they?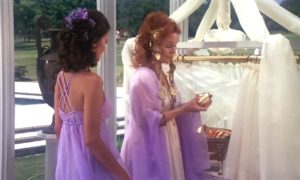 To be fair, I did recently snag my mom's retro-art deco 70s brass lamps for my living room, so maybe I shouldn't make fun of Paradise Island's interior decorators anymore.
Where were we? Right. Diana is powerful, brilliant, and gorgeous and if she can't protect the world of men from terrorists than no one can.
Hippolyta reminds Diana what each of her accessories do in case we, er, she forgot, summarizing: "The magic bracelets, your tiara, the costume with the secret belt of strength, the golden lasso of truth and then forgetfulness: the Garb of Justice."
Then the Queen reminds Diana that she's nothing without this star-spangled spandex get-up.
Like I said, Amazons can be pretty passive-aggressive.
Diana apparently doesn't want to pack all that stuff in her carry-on, so she spins into Wonder Woman. In a bit of retroactive continuity, Hippolyta reminds Wonder Woman that the ruby in her tiara enables her to call home whenever she wants.
The Queen also gives Diana some valuable ancient coins to sell for living expenses so she doesn't have to hustle as a carnie this time around.
The Amazons hypnotize the outsiders to awaken only in response to a tune on a pan flute and then dump them onto the plane exactly how they found them.
With her invisible jet following on auto-pilot, Wonder Woman flies the government plane out of the magnetic field. She plays the flute to start the countdown to consciousness and then leaps into her invisible plane before anyone sees her.
Steve and the gang wake up none the wiser to the fact that they've been missing for several days.
In Washington, D.C.: Solano is amazed to see the plane reappear on his surveillance feed as though no time at all has passed.
At the Airport in Samarra, Latin America
A Samarran army guy tells Steve they've been searching for the plane for 2 days and that his assistant has the full report.
His assistant?
Steve's brainwashing kicks in and he recognizes Diana.
Dr. Solano is the Chair of the secret nuclear conference! He and his co-delegate from Guanaray, Gloria (the glorious Jessica Walter), are up to no good.
In the meeting hall: Steve promises all of the delegates that the U.S. will share all the power they'll generate from the new power plant. Latin America is saved by the benevolence of the Americans!
Diana tells Steve that Solano is an unlucky name, because it means "nightshade." Diana is full of dubious-sounding folklore.
During the meeting scene, it drives Husband crazy that none of the microphones are actually plugged in. I manage to ignore that because I'm busy admiring Diana's wrap dress.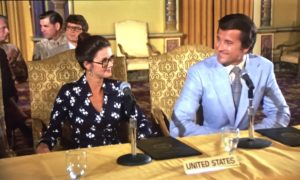 When I was a kid, Diana's wardrobe blew my mind.
In a hotel suite: Solano and Gloria mwahaha over Solano's terror goal, which is to bring down all of the governments of the world and build a new world of paradise. Hey, it's a nice change of pace from Nazis.
Solano is obviously a bad guy because he wears a big velour bathrobe over his dress shirt.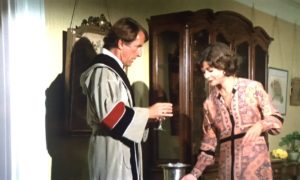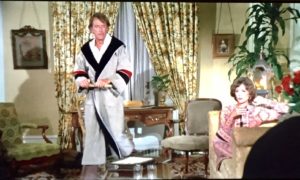 Washington, D.C. – Several Days Later
For reasons that are, thankfully, not explained to us, IADC management accepts that Diana is Steve's new assistant. On her IADC orientation tour, Diana meets IRAC (aka IRA) – the Informational Retrieval Associative Computer.
Later, Diana sneaks back in and gains access to IRAC (aka IRA) and creates a personnel record for herself.
Then, she goes to a coin dealer and sells her coins for $25,000 apiece (in 2017 dollars that's approximately $103,708 each).
Next, she gets herself a groovy apartment to sleep in and store her wardrobe of swank wrap dresses.
Seriously, those dresses.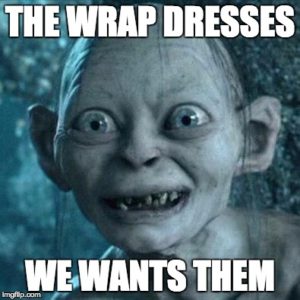 Where were we? Oh, right. Diana snags a huge furnished apartment in Washington, D.C. for $500 a month. Actually, that's about $2,000 adjusted for inflation, which in 2017 gets you a small unfurnished efficiency, so even in 1977 TV apartments were setting unrealistic expectations about adult life.
Thanks a lot, television.
While Diana is out, Gloria breaks in and bugs the apartment. When Diana returns, she's shocked to discover a masked lady-burglar wrecking her place.
Diana gasps: "You're a woman! We shouldn't be enemies!"
Gloria responds: "I don't know where your head is at, baby. Women are naturally enemies. Just keep the exit clear."
Diana does not keep the exit clear.
Instead, she fights Gloria. In the melee, the sleeve of Diana's awesome new yellow wrap dress gets torn off, which is super-sad. Gloria uses knockout gas on Diana.
Gloria is long gone by the time Diana spins into Wonder Woman.
Diana/Wonder Woman calls Steve. He proves he's not any smarter than his dad when he advises her not to call the police.
Thanks to the bug Gloria planted, Solano is eavesdropping on the whole conversation, because that seems to be his thing.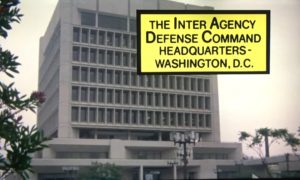 On her first day of work at the IADC, Diana meets Steve's boss, Joe Atkinson (Normann Burton).
Joes's secretary shows Diana to her new office. She apologizes for how drab and empty it is as the two women awkwardly try to ignore the fact that the office is fully furnished and decorated with plants and pottery. Somebody really needed to share script revisions with the art department on this show.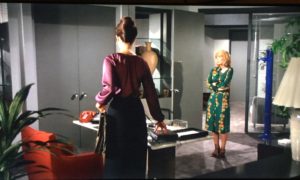 Steve and Diana leave quickly to go somewhere or another, leaving Joe's secretary to fret over the fact that she's already ordered breakfast for everyone, including Diana! Already, we have the dynamic of nurturing non-threatening food-bestowing secretary and never-eating Diana in play.
Remember girls, you have to skip a lot of meals to fit into star-spangled satin undies.
Solano's thugs follow Steve and Diana, ambushing them somewhere, maybe a park. Diana manages to slip away and spin into Wonder Woman. She saves the day with some truck lifting, gun bending, and tiara-boomerang action.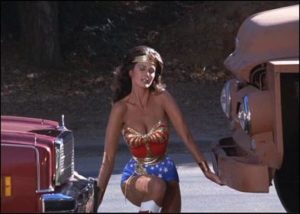 While Steve lies there unconscious because Steve, she uses her golden lasso to learn that the henchmen were trying to plant a bug on Steve.
Steve regains consciousness and sees…Wonder Woman!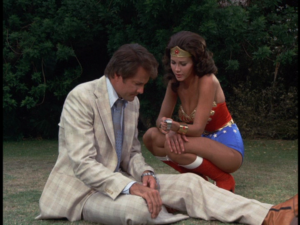 Wonder Woman and Steve talk about how awesome Steve Senior was, moving swiftly past her extremely intimate knowledge of dear old dad's scars. Steve Junior thinks Wonder Woman is hot, even if she is 2,526 years old.
In Solano's D.C. lair: Solano and Gloria watch improbably edited multi-camera footage of Wonder Woman defeating his henchmen in the park 10 minutes ago.
Solano thinks Wonder Woman is an "experimentally enhanced agent." To be fair, that's not any wackier than the explanation that she's a 2526 year old Amazon with magical undergarments.
Gloria has an extensive clippings file of Wonder Woman's World War II exploits. Could it be the same woman? Is she a robot?
Solano shows Gloria his experimental fencing robot, which is powered by a miniature nuclear reactor source that gives it unlimited strength and creepiness.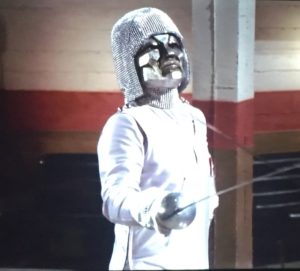 Later, at the IADC: Gloria visits Steve to coax him into attending a reception at the Guanarayan embassy. It seems to be a reception to celebrate the new nuclear reactor, which is confusing because I thought the reactor was a secret. I guess not. Fictional Samarra's fictional neighbor Guanaraya can't wait to have access to all that cheap nuclear power.
Gloria smooches with Steve and then slinks away. Seriously, Jessica Walters is super-slinky. Also, this episode could pretty much be her audition reel for Archer.
At Solano's lair : one of the henchmen is now a Steve Trevor impersonator. I think Solano has a face/off machine.
That Night at Embassy Row in Washington, D.C.
There's a big party at the embassy.
Gloria lures Steve away from Diana, chloroforming him into unconsciousness. Fake Steve then leaves the party, pretending to be Real Steve.
At Blanding Air Force Base: Fake Steve briefs the pilots who are delivering the pre-fab sections of the nuclear reactor to Samarra. Apparently, the U.S. government is using pre-fab housing technology to build this nuclear reactor.
Fake Steve claims there's been a change in plans and they're going to deliver the nuclear reactor to Guanaray instead of Samarra.
At Diana's Apartment: Diana rebuffs Fake Steve's handsy advances after he drives her home from the party. She tricks him into revealing he's a fake. The trick involves intimate knowledge of Steve Senior's anatomy, which is a bit of innuendo I definitely didn't understand when I was 7.
Diana eludes Fake Steve and spins into Wonder Woman. She captures Fake Steve and uses the golden lasso to question him.
At Solano's secret lair: Wonder Woman breaks down the door and saves Real Steve.
At the Air Force Base: Real Steve radios the pilot, but he won't turn around because Fake Steve told them not to stop for anyone, including himself. There's this whole complicated thing about failsafe words that I'm not going to bother to explain because I'm sure you're just as devoted as I am and are watching right along with me.
Wonder Woman and Steve hop in her invisible jet and hightail it to Guanaray.
Solano's Secret Air Field on Guanaray
Solano challenges Wonder Woman to a fencing match – saber dueling being the preferred fighting style of refined evil international terrorists.
Robot wackiness ensues as Wonder Woman discovers she's dueling with the nuclear fencing robot in an easily removed rubber Solano mask. What. Ever.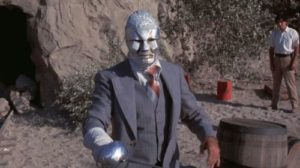 Blah blah blah, Wonder Woman saves the day.
I wonder what happened to the Fake Steve?
Before you go on about your life, here's a highlights clip of Jessica Walter as Malory Archer:
Stay tuned for the next episode, "Anschluss '77," in which Steve and Diana must defeat…Nazis. Goddamnit. Why won't these guys just go away?
(Sadly, a question we're still actually asking in 2017).
This episode contains
Artificial Intelligence
Bermuda Triangle
Boomerang Tiara
Brainwashing
Bullets and Bracelets
Deadly Doubles (see also: impersonators)
Dubious Folklore
Dueling
Evil Plots
Fencing
Fictional Countries
Foreign Languages
Golden Lasso
Gun Bending
Hypnosis
Knockout Gas
Magnetic Forcefields
Plastic Surgery
Robots, Nuclear
Spies, Non-Nazi
Spinning
Wrap Dresses