In a refreshing change of pace, Wonder Woman and Steve Trevor bust up a counterfeiting ring in in this episode.
A counterfeiting ring…of Nazis.
"The Last of the Two Dollar Bills" originally aired January 8, 1977 and was directed by Stuart Margolin, who is still a busy character actor and director in Hollywood.
The North Atlantic September 1942 – 0800 Hours
A U.S. Battleship detects a submarine. Stock footage ensues.
Confusingly, this is supposed to be the Chesapeake Bay, which is not remotely in the North Atlantic. In fact, it's in a region that's called the "Mid-Atlantic" to differentiate it from other parts of the Atlantic.
Moving on.
At the War Department – 0805 Hours
General Blankenship (Richard Eastham) tells Major Steve Trevor (Lyle Waggoner) and Yeoman Diana Prince (Lynda Carter) about last night's intel. It seems that the Nazi super-agent known as Wotan is planning to visit D.C.
Diana remarks that "Wotan" is the name of the Germanic God of War. Diana is correct.
No one knows what Wotan looks like! Or how he will travel to D.C.!
Oh, and also, Steve reads an emergency cable that says some nonsense to the effect of: "We just sank a submarine in the shallow waters of the Chesapeake Bay and there were no survivors." As we've already covered in previous posts, this whole submarines in the Bay thing is very silly.
Do Steve and Diana think the Uboat is related to Wotan's arrival? Nah. Do Steve and Diana go check it out anyway because they are the War Department? Yes. Will they find Nazis? Duh. Is the Bay still too shallow for Uboat incursions? Definitely!
Off the Coast of Virginia – One Hour Later
Diana and Steve skulk around Smith Point, watching for the 3 men who were spotted escaping from the submarine in a rubber raft.
Wait. The intel said there were no survivors – but it also said there were 3 men in a raft? Were there survivors or weren't there?
And if there were, why did it take them an hour to row ashore? And why did it take an hour to figure out that the submariners faked the explosion as a cover to deposit 3 men in a rubber raft off the coast? Let's review: there are 3 guys in a raft where there weren't any before and there's no wrecked submarine. Even Steve seems to be able to put the pieces together on that one.
More importantly, how did Steve and Diana get to Smith Point in an hour in that jeep? Ok, yes, maybe they took a helicopter and then borrowed the jeep. Smith Point is in Virginia Beach, which is 4 hours away on a good day via I-95 (which wasn't built until 1957). In 1942 it looks like they would have taken U.S. Route 1 and I can't imagine they could get there in 4 hours, even with a military escort.
Husband suggests that maybe they're supposed to be at Smith Point, the popular Georgetown destination once ranked number 3 on a Douchiest Bars in D.C. list, which is a travesty because it should have been number one.
As the men land on the beach, Diana trots back to the jeep, reports in to the General, then spins into Wonder Woman. Good thing, since Steve gets ambushed.
A Nazi waiting on the shore yells a warning to Wotan (James Olson), whose identity is protected by a truly stupid-looking mask.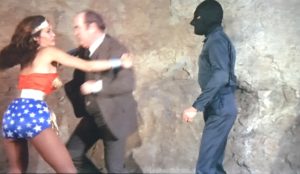 In the scuffle, Wotan gets away – but not before he and Wonder Woman lock eyes for a long time. Thanks to Wonder Woman's bullet-deflecting bracelets, she and Steve capture the other three Nazis. Also, Wonder Woman jumps over a fence, which makes sense from an efficiency standpoint but doesn't entirely make sense in light of the fact that the fence didn't seem to be there a few minutes ago when Diana ran up from the beach to use the jeep-phone.
Washington, D.C. – Several Hours Later
Etta Candy (Beatrice Colen) and Diana go to "a joint" because Etta is starving. A joint? Slang confuses Diana, who is so wide-eyed and innocent. In case you forgot: Etta is the jolly plump one who eats a lot, while Diana is the thin one who doesn't ever seem to eat.
Wait. Hang on. The actor who played Wotan is named Jimmy Olson? I admit I find that much funnier than it probably objectively is, because I took such terrible notes on this episode I had to rewatch it a few times. To be fair, it was entertaining every time, but still, it takes a toll on a person.
On their way to the Capitol Cafe, a street photographer takes Diana and Etta's photo. Etta gives the photographer money for 3 prints. She gives him her addresses because it's 1942 and he has to develop the pictures and mail them. Diana looks into the photographer's eyes for a long time. Do you think it's because he's a Nazi spy? I do. I bet it's Wotan.
One Week Later at the Secret Headquarters in Nazi Germany Wotan is having a gallery opening of his street photography. No, not really, but that might make for a better storyline. Instead, he select one man and one woman from among the top students at Nazi Hogwarts. He informs them they will have plastic surgery which transforms them into a couple he photographed in D.C. last week.
So Wotan was only here for a week? Faking a submarine explosion was a ridiculously high-profile, complicated plan to get 3 covert agents into Washington, D.C. for such a short amount of time.
Washington, D.C. A Few Weeks Later
Is it October yet? An awful lot of these episodes take place in September. Was there only one title card and no one wanted to update the typesetting?
At her desk at the War Department, Diana studies a book of "American Slang."
Etta is upset because the photographer never mailed her their photos so she and Diana go to the photo shop. The shop owner doesn't know what happened to the photographer. Diana is suspicious, because Diana has caught on that pretty much anyone in Washington, D.C. who isn't Etta, Steve or the General is probably a Nazi spy. Etta goes back to the War Department.
Diana dawdles until Etta is gone, then she spins into Wonder Woman and breaks into the photo shop owner's apartment upstairs by jumping up into the window. She finds a hidden Nazi radio. The shop owning Nazi catches her in the act, but she bends his gun and he flees. She jumps out the window, stops his truck, and then catches him with her lasso.
Etta and Steve meet Wonder Woman at the shop owner's apartment. Wonder Woman tells them he's a Nazi in league with Wotan.
Etta is suspicious! The photographer took their picture in front of the Bureau of Engraving and Printing (BEP), which is a place Diana/Wonder Woman has apparently never wondered about even though it's a big building she walks by all the time. It's a very big building. I walk by it all the time, too. It's hard to miss. When I took a picture for this post I couldn't even get the whole building in the frame without putting in more effort than I was capable because it was almost 100 degrees out and I was cranky and tired. Just trust me, it's an enormous building.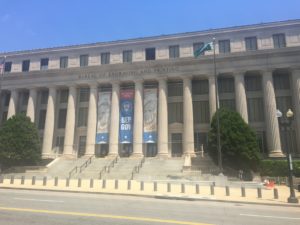 Wonder Woman is amazed that there's a place "where they just make money!" Well, I think she's amazed; Husband suspects she's not so much amazed as bitter, because she had to work as a carnie so she wouldn't be homeless when she first arrived in America. (See Pilot episode for details)
Steve is going to the BEP to conduct a security review tomorrow anyway, so he invites Wonder Woman to join him. They actually say "Bureau of Engraving" a lot in this episode, but D.C. runs on acronyms and I don't feel like typing that over and over, so from here on out: BEP.
Nazi Intelligence Headquarters Later That Night: Wotan approves of the results of the plastic surgery. Fake Maggie Robbins (Barbara Anderson) and Fake Hank Miller (David Cryer) reporting for duty!
Fake Hank has a toothache. Wotan tells him to get it taken care of. Do you think that's going to be important later? I do.
Wotan's nefarious plan: steal the engraving plates for the two dollar bill and flood the U.S. market with counterfeit currency. He instructs Fake Hank and Fake Maggie to parachute in to Canada and make their way to D.C., then they pretend to leave.
It's a trick! Wotan returns in time to catch one of his henchmen transmitting a secret message to the Allies.
At the War Department the General gives Steve the incomplete message: "Wotan 2 dollar bill."
What could it possibly mean?
Later that Night Somewhere Over the East Coast, U.S.A
The imposters parachute in. Wotan told them to parachute into Canada, but clearly the people who produce the title cards don't get any script revisions, or they just don't care. See also: why is it always September 1942 on the title cards?
Washington D.C. War Department – the Following Morning
Diana arrives to find Steve asleep at his desk. Actually asleep, I'm not making a joke about his competency. This time.
Diana creeps around his office, takes off her glasses, and watches him sleep. I like to believe her revere stems from the mystery of his status as a great war hero, but we'll never know because he wakes with a start and dashes off to meet Wonder Woman.
Diana sits down at Steve's desk, kisses the two dollar bill he left on his blotter, and then also dashes out.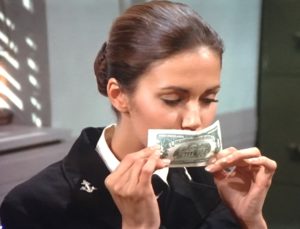 Wonder Woman arrives at the BEP . In her cape! And her skirt! I thought she kicked that skirt to the curb back on Paradise Island, but it turns out she packed it after all! That's nice.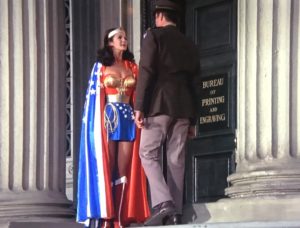 At the Capitol Cafe, Real Maggie hires a new counterman. He might be a real counterman but he's also a real Nazi, because we know it's Wotan in another disguise!
Wotan is the Gene Parmesan of Nazi Germany.
Real Maggie gets a call from Real Hank, who invites her over to meet Wonder Woman.
At the BEP, Real Hank Miller gives Wonder Woman and Steve a tour.
Fort Knox. Valuable green paper. Gold.
That's all I wrote down. In lieu of a better recap, here's some fun information. The Bureau of Printing and Engraving's URL is moneyfactory.gov, which I think is awesome. Hilariously, the home page right now features a story about $2 bills.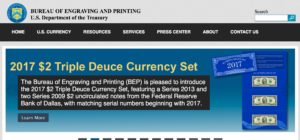 At the BEP, Real Hank walks Steve and Wonder Woman out at the end of the tour. On the steps, Real Hank's Real Fiancee Real Maggie gets Wonder Woman's autographs on one of her Capitol Cafe menus so she can send it to her G.I. brother overseas. Morale and all that.
Real Maggie returns to the cafe. Fake Maggie and Fake Hank are there waiting for her! Wotan locks Real Maggie and Real Hank in the basement.
Wonder Woman realizes that counterfeiting would be a potent economic weapon, which might explain that whole $2 bill message.
Steve returns to the War Department and sends Diana to fetch lunch. I think this is where Steve asks Secret Service Agent Dan Fletcher (Dean Harens) to keep an eye on Hank until they catch Wotan. Makes sense, the Secret Service were originally formed to handle counterfeiting.
At the Capitol Cafe, Diana looks into the counterman's eyes and grows suspicious. Diana knows something's afoot when she spots the autographed menu carelessly tossed aside.
Diana leaves, spins into Wonder Woman, and calls Steve. She asks him to meet her at the Capitol Cafe, but she does the creepy voice mimicry thing, pretending to be Agent Fletcher.
Wonder Woman returns to the cafe and tricks Fake Maggie into revealing she's an imposter.
Wotan captures Wonder Woman and puts her in the cage in the basement with the Real Maggie and Real Hank after he confiscates her bracelets.
Steve Trevor goes to the Capitol Cafe to meet Agent Fletcher, but he's not there! I don't know why Wonder Woman pretended to be Fletcher instead of just outright telling Steve about the imposters, because it causes Steve to blithely walk into the middle of a dangerous hostage situation. This time it isn't even his fault he's bumbling around into a dangerous situation.
While I'm asking questions: how did Wotan get back here? Did he also parachute in? We didn't see him parachute in with Fake Hank and Fake Maggie. Again I ask: why go through that whole Uboat explosion fake-out if Wotan can waltz in and out of the country whenever he likes?
At the BEP, Fake Hank steals the $2 bill engraving plates, trusses Agent Fletcher up like a Christmas goose, and plants a bomb. In the building, not in Agent Fletcher. That would be too weird, even for the 70s.
As he exits the BEP, Fake Hank runs into Steve, who is still wandering around looking for Agent Fletcher.
Fake Hank has a toothache so Steve insists on taking him to the dentist. Fake Hank confers with Wotan, who tells him to go get his filling replaced and then kill Steve.
Wotan takes the plates and leaves.
Wonder Woman breaks the chain on the cage, gets her bracelets back, frees Real Hank and Real Maggie, and renders the henchman powerless by bending his gun, which is probably a metaphor for something, don't you think?
Wonder Woman sends Real Hank and Real Maggie to the War Department to tell General Blankenship what's going on.
At the dentist's office, the dentist tells Steve that Hank has a Nazi steel filling. Nazis!
Meanwhile, back at the Capitol Cafe, Wonder Woman captures Fake Maggie and uses her lasso to discover the UBoat rendezvous point.
Rosie the Riveter gets annoyed about the lousy service and storms out of the cafe just as Steve and Fake Hank return.
Fake Hank shoves Steve down the stairs and locks him the cage with the working padlock that we just saw get bent, broken, and shot 2 scenes ago.
It might be Wonder Woman's fault Steve walked into the situation unprepared in the first place, but now he knows Fake Hank has Nazi fillings so I'm just going to go ahead and blame the victim: Steve should not have walked down the stairs in front of Fake Hank.
Meanwhile, at the War Department: Real Maggie and Real Hank convince Etta to let them talk to the General.
Meanwhile, at the cafe: Steve breaks out of the cage and runs to the BEP.
Meanwhile, at Smith Point: Wonder Woman intercepts the Nazi spies on their way to the Uboat rendezvous. How did they all get to Virginia Beach so fast? It's like the writers didn't care about authenticity.
Wonder Woman distracts Wotan and Company with the old "throwing a rock to create a distracting noise" trick.
At the BEP: Steve tries to defuse the bomb.
At Smith Point: from either up on a cliff or possibly from 3 feet away, Wonder Woman lassos Fake Hank and Fake Maggie. Wotan is getting away, but Wonder Woman uses her tiara to puncture his inflatable raft.
This has been a pretty big day for Wonder Woman's accessories.
At the BEP: Steve Trevor diffuses the bomb in the BoE with 5 seconds to spare.
What appears to be moments later, Wonder Woman runs up to Steve outside the BEP, which is ridiculous.
The next day at the War Department, Steve tells Diana and Etta that the government is taking the 2 dollar bill out of circulation.
In reality, that didn't happen, but I did learn this quirky bit of history about the $2 bill in 1942:
The fortunes of the $2 note were reversed with the entry of the US into World War II. In early 1942, the Treasury forbade the carrying of US currency across the Mexican-US border. The Treasury did this "to prevent use being made of Mexico as a place in which Axis agents may dispose of dollar currency looted abroad." The only exceptions to this blockade were
$2 notes and silver dollars as it was believed that there were not many of these items outside the United States. As a result, demand for $2 notes skyrocketed along the border.
Meanwhile, back on the show:
Steve and Etta and Diana natter on a bit.
Steve says "Wonder Woman truly is a wonder. Strong and fearless and compassionate."
Then he cheerfully adds: "All of the virtues of femininity with none of the vices!"
Diana replies: "Shut the fuck up, Steve."
Wait. Diana didn't say that, I did.
Etta says she wishes she was like Wonder Woman.
Diana responds: "The most we can do is be the best women we can possibly be!"
This episode contains:
Bomb defusing
Bullets and Bracelets
Counterfeiting
Disguises
Golden Lasso
Gun Bending
Jumping
Lunch
Nazi Spies
Plastic Surgery
Spinning
Stock Footage
Submarines
Tiara
Timebomb
Voice Mimicry