The posts in this series contain copious spoilers for a TV series that ran from 1976-1979. If that's a problem, this is definitely not the blog for you.
"The New Original Wonder Woman" (1.1) aired on November 7, 1975. Written by Stanley Ralph Ross and directed by Leonard Horn, this was technically the 2nd pilot episode ABC produced before greenlighting the show in 1976. (The 1974 pilot starred Cathy Lee Crosby as Wonder Woman). Ross had written twenty-five percent of the episodes of Adam West's Batman TV series (1966-1968). When the network rejected the first pilot, they chose camp-meister Ross to create and develop the series, starting with a newly adapted storyworld and cast.
The episode opens with a World War II stock footage montage. At the end of the sequence, an FDR impersonator gravely intones: "The only hope for freedom and democracy…" as we cut to the Wonder Woman theme song and a comicbook-style title sequence.
After Lynda Carter (Diana Prince/Wonder Woman) and Lyle Waggoner (Steve Trevor) pop out of their frames and smile their thousand watt smiles, we get straight to the campy action.
By the way, Lyle Waggoner was Playgirl magazine's first centerfold, tastefully concealing his junk from the camera in the pages of the April 1973 inaugural issue. (This link is going to return way more than I think you want to see on a Friday afternoon and is 100% NOT SAFE FOR WORK. I know you're going to click it anyway but you can't say I didn't warn you. Go on. You know you want to. I'll wait here).
You done? OK. Moving on…
After the title sequence, we see a Top Secret Nazi Base in Germany, wherein a Nazi Commander (Kenneth Mars) summons an ace Nazi Pilot (Eric Braeden) for a secret mission. The media Trope of the Sissy Villain is in full play here: the Nazi Commander is an effeminate diva.
Awkward exposition explaining the secret mission ensues.
"Blahblahblah. Nazi. Nazi. Nazi. Blow up the Brooklyn Navy Yard. If you don't do it right I'll do it myself."
While the Nazi Commander gives the Nazi Pilot his orders, the Third Nazi in the room sneaks off, because he's a spy!
Meanwhile in Washington D.C., devilishly handsome war hero Steve Trevor reads the Nazi spy's intel. In keeping with the 1970s obsession with the Bermuda Triangle, Steve Trevor heads off to intercept the Nazi pilot in the Bermuda Triangle because planes disappear there all the time so the Nazis won't suspect the Americans. Obviously.
Too bad Steve and General Blankenship (John Randolph) have this conversation in front of Steve's sexy secretary, Marcia (Playboy Playmate Stella Stevens) because she's not really running off to a doctor's appointment before her date with Steve that night. She's a Nazi spy! He's a pig! But it's the 1970s as the 1940s, so only one of those things is bad!
Soon, Steve is in a dog-fight over the Bermuda Triangle. He and the Nazi Pilot have to eject from their planes. They drift down in their parachutes, mere feet from each other, while having a hilariously inept shoot-out. The Nazi is eaten by sharks; Steve Trevor washes up on the beach.
Luckily…It's Paradise Island!
Princess Diana and her gal-pal Rena (Inga Neilson) are cavorting down the beach in their chiffon shortie-nighties when they come upon…an unconscious man! This is the first time Steve Trevor is rendered unconscious, but it won't be the last – not even the last time this episode.
Hippolyta, Queen of the Amazons, wonders why, after 1000 years, a man has found their island. As the Queen, Chloris Leachman chews: an apple, her knuckles, the scenery. It's pretty amazing. I can't even imagine what kind of direction she was getting from director Leonard Horn. The result was fantastic, whatever it was. Amazingly, Leachman doesn't even play the kookiest iteration of Hippolyta in the series. That title goes to Carolyn Jones, perhaps best known as television's Morticia Addams, who takes over the role later in the season.
Under the influence of truth serum, which was also big in the '70s, Steve confesses he's a spy and tells the Queen about the Nazis.
In Washington D.C., General Blankenship tells Stella that Steve is dead.
In Germany, the Nazi Commander minces off to complete the mission himself. (Oh yes, we'll be talking about masculinity, gender, and stereotypes in a later post, as well as the changing portrayal of the Nazis over the course of the first season).
On Paradise Island, the Queen just wants the Amazons to be able to live in peace and sisterhood! She holds a tournament to decide who will accompany the unconscious man home.
The Queen forbids Diana from competing. Conveniently, the customs of Paradise Island include the custom of wearing awkward and not-really-identity-concealing masks while competing in a competition of speed and agility, so Diana gets a blonde wig and a mask and defies her mother.
A weird competition ensues. There's running! Jumping! Horseback riding! Stone throwing! Arm wrestling! All edited in arty soft focus and slow motion, with lots of dissolves from one event to another to either keep the story moving or prevent the audience from dwelling on how silly the competition actually is. Seriously. Here's a screenshot of stone throwing: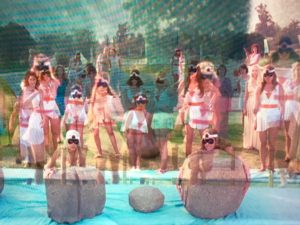 Finally, it's time for Bullets and Bracelets! In this episode, the competing Amazons shoot to kill – firing at each other's faces. (In the second season, Bullets and Bracelets will involve each contestant standing to the side of the target and trying to keep her opponent from hitting her target).
Diana wins! The Queen presents her with a shiny new outfit, made of indestructible fabric. It has a removable skirt, the Queen says as Diana removes the skirt and discards it, never to be seen again.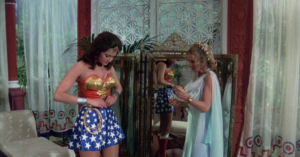 "The colors were chosen because they represent freedom and democracy." Sure, Why not?
The Queen explains Wonder Woman's accessories. Her belt enables her to use her Amazon powers even when she's off the island.
Wonder Woman loads up once-again unconscious Steve Trevor and flies to Washington D.C. in her Invisible Jet, an object which inspires previously unimaginable levels of scorn from Husband, although I'm not entirely sure why.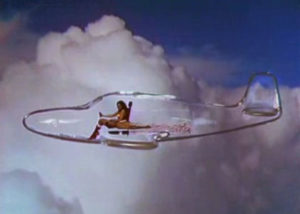 Wonder Woman delivers unconscious Steve Trevor to the Armed Forces Hospital, later returning disguised as a nurse to keep tabs on him.
Wonder Woman realizes she needs money to buy some clothes to cover up her star-spangled butt. She does the only logical thing, agreeing to be in a daredevil show. Promoter Ashley Norman (Red Buttons) hires her, running an ad inviting the audience to bring any weapon they want to shoot at the Wonder Woman, who will stand on stage deflecting bullets back at the audience. With a metal wall behind her.
The writers didn't seem to understand guns or physics or logic, but that's all part of the charm. Right? Right.
Also, Ashley Norman's agency is called "Dogs, Dwarfs, Daredevils." Also, Ashley Norman is actually Karl the Nazi Spy and he's working with Marcia the Nazi Spy to try to kill this Wonder Woman.
Bet you'll never guess that the little old lady who shows up at the daredevil show with a machine guy is a Nazi Spy. She is! But Wonder Woman is amazing and deflects every single bullet! Wonder Woman doesn't know Ashley/Karl is a Nazi. Yet.
After the show, she puts on her nurse's uniform and checks on Steve, but she finds that he's checked himself out of the hospital so that he can go be rendered unconscious somewhere else.
WONDER WOMAN DOES HER FIRST SPINNING COSTUME CHANGE. The effects hadn't quite been worked out yet, so the editor cuts back and forth between Lynda Carter spinning in her nurse's uniform and in her Wonder Woman getup. Eventually she stops spinning around and her transformation into Wonder Woman is complete. In the first few episodes, she still has her clothing in her hand when she stops spinning and must hide the items while she is Wonder Woman, which means she also has to return to her original spin site to resume her identity as Diana again. It's strange and results in some supremely silly and awkward situations before the writers wise up and just make her clothes vanish in later episodes.
Sexy Marcia, Nazi Spy, gives Spy of Questionable Competence Steve Trevor a dose of truth serum. He makes kissy faces at her and divulges the combination to his Top Secret Office Safe, because he is a terrible spy but a stellar manslut.
Marcia dashes off to steal things from Steve's Top Secret Office Safe, but Wonder Woman catches her red-handed. Marcia was the Nuremberg Judo Champ, so she and Wonder Woman have a pratfall-filled fight, which I found on youtube, much to my delight:
Then, Wonder Woman uses the Lasso of Truth on Marcia before telling her that the Nazis will fail because they don't respect their women and the future is sisterhood.
Then, Wonder Woman uses an unexplained creepy Terminator ability to mimic voices, impersonating Marcia on the phone to lure the other Nazi spies into her trap.
Then, Wonder Woman captures the Nazi Commander and lectures him for not respecting womanhood.
Then, Wonder Woman punches him in his Nazi face.
Then, Wonder Woman delivers the Commander to the DCPD, rounds up the other Nazi spies, and rescues Steve Trevor.
Steve thinks Wonder Woman is super vavavavoom. Hey, even a broken clock is right twice a day.
A few days later, Steve recovers enough to return to his job as a terrible spy, vowing to only hire ugly ducklings from now on. Oh pretty girls, you're such a problem to our national security! Luckily, General Blankenship has already hired Steve a new secretary, hideously ugly but highly competent Yeoman Diana Prince.
Holy cats! It's Princess Diana! With her hair pulled back! And wearing glasses! Oh Diana, you're so ugly now!
Steve and the General laugh and laugh at the ugly girl. Diana flashes her thousand watt smile at the camera and the credits roll.
This isn't the best episode. It's not the nuttiest episode. It's not the most psychedelic episode. It doesn't have the wackiest guest stars. It doesn't have the most absurd examples of Los Angeles as Washington D.C. It doesn't have some of the iconic imagery, such as the lightning flash spinning transformation or Wonder Woman jumping over a fountain it would be faster to walk around, but that's okay. It's a delightful and goofy examplar of the series so if you're only ever planning to watch one episode, make it this one.
This episode contains:

Bullets and Bracelets
Spinning
Invisible Jet
Lasso of Truth
Voice Mimicry
Womanly Badassery
Nazi Spies
Mansel in Distress Steve Trevor
Unconscious Steve Trevor
The Bermuda Triangle