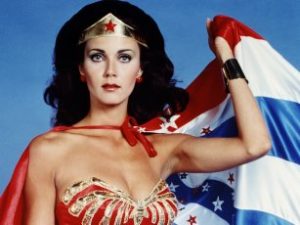 Once upon a time I bought Husband the complete TV series Wonder Woman (1975-1979) for his birthday.
In an episode of questionable decision-making, I recently decided to blog my way through all 3 seasons of this glorious show.
OK. Look. Lynda Carter is awesome. Wonder Woman is awesome. This show? Not always awesome. Does it matter? A show can be glorious even when it isn't always awesome, right? Absolutely!
Moving on…
What can you expect from this epic series of insightful posts? I'm not just recapping the shows for you – you'll get cultural and historical context! Steve Trevor wardrobe snark! DC Geography lessons! And so much more!
Here's a brief overview of the three seasons to set the stage, in case you've repressed or forgotten this magical moment in our cultural history:
In Season 1, Diana Prince/Wonder Woman (Lynda Carter) rescues Steve Trevor Sr. (Lyle Waggoner), one of the worst spies in the history of American spies, and returns to the U.S.A to help him battle Nazis. We'll battle a lot of Nazis. A lot of Nazis. You won't believe how many Nazis we'll fight. We'll also meet Wonder Woman's younger sister, Drusilla/Wonder Girl (Debra Winger) and a host of other earnest Nazi-fighting characters, because Nazis.
In Season Two, we'll follow The New Adventures of Wonder Woman, as the show was retitled when it hopped from ABC to CBS. Our story skips ahead to the groovy present-day 1970s, where we join the Cold War, already in progress. Diana Prince/Wonder Woman journeys from Paradise Island to assist Steve Trevor, JR, who not only looks exactly like his father, but is also one of the worst spies in American history.
Season Two has it's finger on the pulse of the alien invasion zietgeist of the late 1970s.
Now playing: Wonder Woman Ep 210: Mind Stealers from Outer Space parts 1 & 2 w Special guest: Dack Rambo. Just what I needed today pic.twitter.com/MjjzZj3and

— Rebecca Stone Gordon (@meanlouise) February 7, 2017
Together, Steve and Diana also fight terrorists, jewel thieves, a Hitler clone, an evil toymaker, and psychic children.
You know, the usual scourges of the 1970s.
Dubious Wonder Woman takeaway #136: Skrill would make an excellent – albeit obscure & confusing – group Halloween parade costume. pic.twitter.com/dugTW2BVRB

— Rebecca Stone Gordon (@meanlouise) February 7, 2017
Changing the setting to the present day saved CBS buckets of money, but they clearly didn't pour that money back into the show.
With the assistance of their polite super-computer, IRAC, Steve and Diana keep America safe from pretty much everything except Steve Trevor's terrible, terrible wardrobe.
Diana Prince & Steve Trevor were a fashion forward duo. (Wonder Woman S2E3, 1977). pic.twitter.com/ll7p3T1s1B

— Rebecca Stone Gordon (@meanlouise) January 5, 2016
In Season Three we'll groove to a disco-fied theme song while we plod through increasingly nutty plots involving (more) alien invasions, time traveling venture capitalists, skateboarders, trained dolphins, computer dating, teen idol kidnappers, leprechauns, and a villainous brain in a jar. Fortunately, Steve Trevor, Jr, Terrible Spy, is still here to grin his dopey grin while Wonder Woman saves the day over and over and over again.
Steve, Diana, and IRAC don't have to battle the bad guys alone. They're joined by Rover the robot dog, a chimpanzee, and a super-annoying kid!
Seriously.
It was the 70s. There were a lot of robot dogs, super-annoying kids, and chimpanzees on network television. It was a deeply confusing time to be a child.
*Related post: In the Future We Will All Have Robot Dogs
You can follow me on twitter (@meanlouise), and/or like my facebook page to get updates when I add new posts.