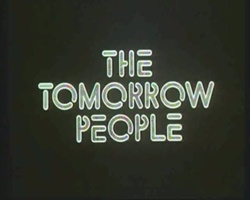 I'm amused by all of the reviews of the CW's reboot of the 1970s ITV series The Tomorrow People that ho-hum the new show for copycatting all the other human-mutant shows of the last decade.
I'm super-excited by this reboot. In the early 80s Nickolodeon ran the original 1973-79 series endlessly. I loved this show in all sort-of-awful glory. Loved.
The new show does, from the previews I've seen, appear to rip off the slow-mo bullet-dodging FX of the Matrix and it's kin.
To be fair, the original show was actually slow-mo, too. The show itself, not the effects. Mostly because there weren't a whole lot of effects. But the plot, the pacing, and the dialogue? Super-slow-mo, baby.
And yet, I loved it. Have I mentioned that?
Here's a Tomorrow People wiki that seems to have a fair amount of information.
Holy shit, did you know there were 16 seasons of the original show? Sixteen. 1973-2006, with some gaps, of course. I wonder if anything ever happened, plotwise?