I watched Stanley Kubrick's The Shining again. I've seen this movie a fair number of times but this is the first time I've seen a really good HD transfer of it. The richness of the colors was astonishing and the sound in 5.1? Way, way creepier than the terrible mixes I've heard in the past. I've always found the cinematography and the sound design impressive, but the vibrancy of the movie is stunning and you really should watch it on Blu-ray.
While I was watching the movie in my dimly-lit living room, I thought I saw something move in my peripheral vision. This is when I discovered that our television is now at exactly the right angle to reflect off of the glass doors of the bookcases that line the wall behind the couch. This discovery took several years off my life.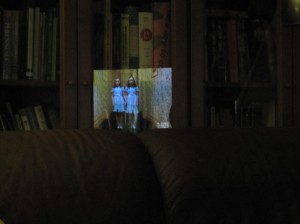 I backed up the movie and managed to get a fairly accurate photo of what I saw when i looked across the room. The demarcation of the television screen wasn't as sharp in reality as it is in the picture so the effect was much creepier. You'll just have to take my word for it.