Something has broken my comprehension of basic architectural features. Have I lived in the DC-area too long? Spent too many decades studying nuclear culture? Seen too many action movies? I guess we'll never know.
Here's what I do know: last night I booked a hotel room. The hotel is a lovely Marriott resort and conference center. There's nothing weird or unusual about a Marriott.
That's a lie. Have you seen Marriott carpeting? Who chose that? Did they chose it on purpose? Did they hold a seance to commune with H.P. Lovecraft's interior designer's immortal soul? Did they then choose the carpeting that H.P. Lovecraft's interior designer's immortal soul dismissed as too much?
Other than the unspeakable cosmic horrors of some of the carpet, Marriotts tend to be pleasantly benign.
Or so I thought.
After I booked our room, I got a message asking if I wished to upgrade to a "concierge level" room. Out of curiosity, I read the description of this upgrade.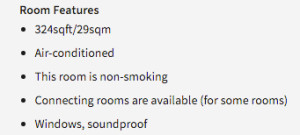 I've embedded an image of the room description section, but in case you're unable to view the image I'll quote the item that caught my eye: "Windows, soundproof."
"Soundproof windows" would be one hundred times less awkward, but let's not digress yet…
My immediate question about this detail was "Is the concierge level in a SCIF (sensitive compartmented information facility)? It would be impractical and impossible to operate a SCIF on a commercial property, right? Not even in Hollywood's vision of a conference hotel would that exist. I spent a lot of time thinking about this.
This is a kid-friendly hotel in which the towers of rooms surround a busy and noisy pool and bar area, so there's no logical reason to question why they'd up-sell a feature like soundproof windows.
But I did.
Eventually, of course, I realized that this hotel doesn't have a SCIF. It probably doesn't even have industrial-espionage-thwarting conference facilities at all. At that point, I laughed off my absurd idea and got around to asking the most obvious question about "Windows, soundproof":
Is the soundproofing an effort to cater to people in the market for a conference and/or resort hotel in which to commit a loud and/or leisurely murder?
That's a disturbing niche market I decided not to think more about, in light of the fact that I realized the "room features" makes no mention of other critical features for such an enterprise, such as "walls, soundproof" or "door, soundproof."
This lead me, finally, to accept that "windows, soundproof" was a feature meant to assure the guest that they will be troubled with a minimal level of environmental noise pollution from the pool and bar area.
I'm not saying that's a bad feature. It's just a boring one. A more appealing feature is the availability of snacks. Never underestimate the importance of snacks.
Hey, remember that time people cosplayed the Marriott carpet in Atlanta and the carpet designer sued them?
The DragonCon cosplay carpet (DragonCon carpet cosplay carpet?) isn't one of the Lovecraftian carpet designs, it's much too geometric. H.G. Wells-ish, one might say. The Lovecraftian ones, those defy description. Conveniently, at least one of them can be viewed on youtube in this promotional carpet-cleaning video from the New Orleans Marriott.

BTW, you can buy squares of that old Atlanta carpet on etsy and ebay these days. Google "DragonCon carpet" and I'm sure you'll find plenty of options.