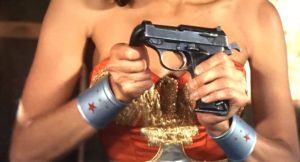 For "Formula 407" (1.12), which aired on January 22, 1977, the team of director Herb Wallerstein and writer Elroy Schwartz pull out all the stops to Nazi Nazi Nazi Secret Formula Steve Trevor is an idiot.
I'm sorry, what? No, that's not what I meant to say at all.
Let's just get right to it, shall we? The sooner we get out of season 1, the sooner we'll be done with all these Nazis. Also, the wardrobe gets way groovier.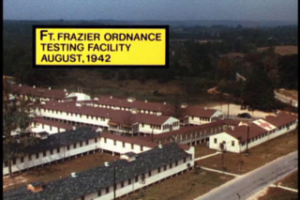 Ft. Frazier Ordnance Testing Facility August, 1942
Over the last few episodes, we've spent several months in September and now it's finally August?
Are you kidding me? How in the name of all that is good and decent in this world are we back to August?
Whatever.
Over a loudspeaker, we hear that the testing operation is about to begin. Major Steve Trevor (Lyle Waggoner), Yeoman Diana Prince (Lynda Carter), General Blankenship (Richard Eastman), Private Etta Candy (Beatrice Colen), and a bunch of Army Officer Dudes watch a bunch of Enlisted Army Dudes try to blow up an Army truck. It looks just like a regular army truck…because it is.
Things get pretty explodey, but that's one plucky little truck! Its tires have been reinforced with Formula 407, a secret experimental formula which makes rubber as strong as steel.
Well that's great. It explains why the landmines and bazooka shells don't damage the tires, but it doesn't explain why the rest of the truck, which is made out of regulation canvas and steel, is unscathed.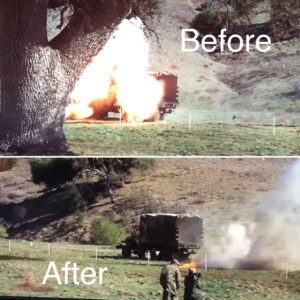 Oh, who cares why the rest of the truck is indestructible! What matters is that the test is a success! That puts our plot in motion!
The General tells Steve to go to Argentina to get the formula for Formula 407 from Professor Moreno, inventor of Formula 407.
Argentina is a neutral country but it's chock full of German sympathizers. The General asks Diana to go with Steve, because she speaks Spanish, which will come in handy in Argentina which is a neutral country where they speak Spanish.
Argentina is a neutral country, don't forget that. It's on the quiz.
In case the awkward expository dialogue about Argentine neutrality didn't penetrate the brains of viewers either too young or too stoned to retain information of geopolitical significance, a title appears on the screen, accompanied by some smooth latin 70s jazz: Buenos Aires, Argentina – A picturesque country that has remained neutral in this time of war.
Really: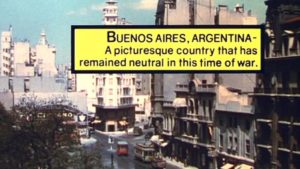 The Home of Professor Moreno
Professor Moreno (ubiquitous character actor Nehemiah Persoff) works in his home lab with his beautiful assistant Maria (Marissa Pavan). They work on Formula 407. Who would ever think to look for world-famous Professor Moreno's secret lab in his huge mansion he never leaves? It is, after all, a neutral country, so there probably aren't any spies. Not any who know about Formula 407, anyway.
The Professor knows the Americans are the good guys. Formula 407. Maria gratuitously mentions Argentine neutrality. Formula 407.
SS Headquarters – Berlin, Germany
The Nazis scheme to steal Formula 407.
Yessireebob, you're gonna be missing the days of the XPJ1 by the end of this episode.
The Following Morning in Washington, D.C.
Diana files things.
Etta wink-wink-nudge-nudges about all the sexy times Diana and Steve can have in Argentina, in addition to some awkward dialogue about "hot blooded gauchos" that we're going to move right on past.
Steve Trevor and Diana land at Buenos Aries Airport
Why doesn't Diana have a last name on this title card? Is it 1970s sexism? Are the writers acknowledging she's the real hero? Are the title setters lazy? Does the writer actually get it that the core audience is 5 year old girls who know the score? I have questions. None are about Argentine neutrality or Formula 407. Only some of them are about the passage of time in the summer of 1942.
Right. Anyway.
The U.S. Ambassador meets Steve and Diana at the airport and tells them Argentina is allegedly a neutral country, but it's full of people with all kinds of accents. (Really, that's what they say).
Steve awkwardly mentions how they all have Swiss passports and work for sketchy Swiss Import Export companies. Steve and the Ambassador laugh knowingly. Nazis do the darndest things! #notallswisscounts
Incidentally, I skimmed some State Department documents and other historical resources to get an idea of what real-world August 1977 events this was about, because of course its not about fictional August 1942 at all, of course.
Much of U.S. policy toward Argentina from 1977 – 1980 grew out of President Carter's new global emphasis on human rights. In addition, it was driven by a Congressionally-mandated halt on U.S. arms sales to Argentina, which was enacted in August 1977 and went into effect on October 1, 1978. U.S. officials grappled with internal disagreements over what tactics should be used to implement the human rights policy. The disagreements inside the Carter administration were not over whether or how to support the Argentine Government, but rather over how to influence its behavior.
Let's not dive into Argentine-U.S. relations right now because we'll forget that Major Steve Trevor and Yeoman Diana Prince are on the ground and ready for action in neutral Argentina. They all hop in a car and drive away.
A Few Miles Away Nazi Agents Wait…
Hans and his Nazi cohort hang out, bemoaning the American lack of punctuality.
The Nazis ambush the car, abducting Steve and the Ambassador while leaving Diana in the car. Good thing, too, because this allows Diana to run behind a tree, spin into Wonder Woman, attack the Nazis, and save the day.
Steve Trevor, in case you've forgotten, is a moron. He totally buys that Wonder Woman just happened to be in the neighborhood and dropped by to save his manly hide. Diana disappears, Wonder Woman shows up, there are unconscious Nazis scattered around, and all Steve can talk about is how he wants to take Wonder Woman to the movies.
The Ambassador invites Wonder Woman to dinner, but she tells him its her first visit to Buenos Aires so she'd like to see the sights. This is the exact same thing Diana said 10 minutes ago, but Steve is either too drunk to notice or maybe he has a head injury. I don't know what the Ambassador's excuse is.
Sunset – A Few Hours Later Diana, Steve, and the Ambassador arrive For Dinner at Professor Moreno's House of Secret Science.
Time for a dinner party!
Professor Moreno and the Ambassador are patronizing dicks when Diana greets them in Spanish.
Professor Moreno introduces his daughter Lydia, who licks her lips at Man-candy Steve Trevor.
They also meet Maria and her fiancee, Senor Keller (John Devlin), a Swiss import-export broker. Remember 3 hours ago in storytime back in that scene at the airport when Steve made that pointed comment about Swiss Exporters in which they insinuated that they're all Nazi spies? Good, I'm glad someone does, because Steve certainly doesn't.
Steve doesn't bat an eye at Senor Keller, Swiss Count and import-export agent.
Antonio, another dinner guest, tells Diana she'd be a most attractive lady if she'd just take "those terrible glasses off."
Now Lydia is actually hanging on Steve, talking about Fate.
How much wine did these people drink during dinner?
Maria and Senor Keller giggle about sexually precocious Lydia's experimentation.
Is this about to turn into a Ken Russell movie?
If anyone starts yelling about a white worm I'm out of here.
Senor Keller tells Maria that Steve Trevor is one of America's great War Heroes.
"Him?" She asks, incredulous. Wait, no, she didn't ask that, I did.
Outside, Senor Keller, who is actually Major Keller, Nazi Swiss Count Spy, takes a walk and chats with his henchmen. He decides to take more than Formula 407 back to Berlin. He's going to nap famous American War Hero Steve Trevor, too!
The henchmen are worried about Wonder Woman.
A Wonder Woman? How crazy! It's not like the Nazis have spent 11 episodes assembling a clip file on her and viewing endless footage of her exploits against bullets and cars that need lifting, so you can understand why Major Keller, Nazi Swiss Count Spy, is unconcerned.
Meanwhile, Antonio continues to pursue Diana and everyone says "Formula 407" a lot.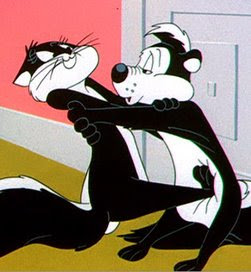 Lydia and Steve go for a walk so they can make out in the neutral Argentine moonlight, because she's in no way too young for him or the daughter of Professor Moreno, who is their host.
Steve makes his move, but before the smooching kicks into high gear Nazis abduct them!
Diana must save them! She eludes Antonio, runs outside, and spins out of a horrible floor length baby blue gown and into Wonder Woman.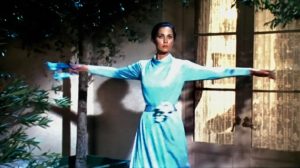 She's immediately chloroformed. By Nazis.
The Following Morning Deep in the Cellars below Professor Moreno's Home
Steve and Wonder Woman are tied up.
Up in the lab: Maria lies to the Professor, telling him that everyone left the party safely. Oh, and his underage daughter spent the night in the garden with Steve. The Professor is troubled that his underage daughter spent the night with Steve.
No time for that now, impressionable young viewers!
Down in the Cellar: Steve splains to Diana that the Nazis are after Formula 407. Then, they escape!
Up in the lab: Moreno learns that Senor Kellor is really Major Kellor, Nazi Swiss Count Spy. The Professor refuses to give Major Keller, Nazi Swiss Count Spy, Formula 407.
Major Keller, Nazi Swiss Count Spy, tells the Professor he'll behave, because the Nazis have Lydia!
Maria is aghast at the depths of Major Keller's fiendish plan.
Keller wants the Professor to give the Americans Fake Formula 407.
A Deserted Shack by the Beach
Lydia is tied to a chair!
Back at the lab: Maria's consciousness has been raised! She tells the Professor that she thought Karl was a good Nazi, but she's been having doubts ever since she learned he kidnapped Lydia 30 seconds ago.
Meanwhile, Steve and Diana skulk around the Secret House of Science, escaping the basement and finding the Professor in his lab.
In the lab: Steve Trevor, America's Most Questionable War Hero, is surprised to learn that Swiss Count Keller is actually Swiss Count/Nazi Spy Major Keller, even though he's been joking about Swiss Counts being Nazis since he touched down on Argentine soil.
Wonder Woman sneaks away and finds Maria in the parlor.
Maria is suspicious of this weird woman who just showed up out of the blue who looks so familiar and seems to have intimate knowledge of the private dinner the previous night at which Maria met similarly-shaped American brunette Diana Prince.
Wonder Woman appeals to Maria's womanhood. Who among us hasn't committed youthful indiscretions for love, such as becoming a Nazi?
In the lab: Steve convinces Moreno to give Keller the Fake Formula 407.
Steve leaps out of hiding and attacks Keller, but Keller's henchmen capture Steve's dumb ass and take possession of the real Formula 407. Keller is a chemist, he's not falling for the Fake Formula 407! What a twist! He knows a fake formula when he sees it! What?!?
Just don't think about it.
Wonder Woman sees Major Keller shove Steve into a car.
Wonder Woman saves Maria from a henchmen with her bullet-deflecting bracelets. Then, she uses her Golden Lasso to capture and question the henchman.
Wonder Woman leaves, casually handing off the Lasso to Maria, who was a Nazi 5 minutes ago but is now reformed enough to be trusted with the magical Golden Lasso, guard a henchman, and look after the most valuable Scientist in the world!
The Nazis Arrive at the Beach for their Rendezvous
A U-boat emerges from the depths.
Wonder Woman races to their rescue. Slowly. Through sand, in high heeled boots, through an awkwardly framed shot.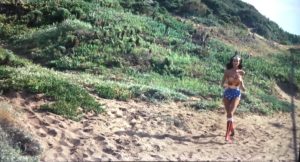 She swings by the shack to rescue Lydia before she goes out to save Mansel in Distress Steve Trevor.
Here, Wonder Woman expresses her feelings about the phallic symbols of patriarchy after she rescues Lydia. Bonus: cool 1970s super-power sound effects.

Running in Sand! Bending gun barrels! Capturing Nazis! So! Much! Excitement!
For good measure, Steve wrestles Keller. Or maybe a henchman. I can't remember.
Nazi frogmen emerge from the surf for whatever reason. They begin hurling explosives at Wonder Woman, because who doesn't carry large fling-able bombs in their wetsuit?
Luckily, the frogmen throw the bombs one at a time so Wonder Woman can safely catch each one and throw it away.
The frogmen retreat into the surf.
Steve is wearing his Big Boy Trousers today – he actually manages to catch Heller himself! Wonder Woman is so darn proud it looks like her dimples ache from smiling.
It's pretty awkward.
Washington D.C. Several Days Later
Steve gets pissy when Diana tells Etta about Lydia. Steve takes Etta's coffee away from her in retaliation. Steve is a monster!
Wait. Did Diana send Etta a postcard with classified information on the back?
Steve wonders how Wonder Woman always knows when he's in trouble. Diana suggests "it could be women's intuition" because, like quicksand, polyester, and the Bermuda Triangle, that's a very 70s pop culture explanation.
Diana grins at Steve like a gooney bird; the frame freezes; we cut to the end credits.
Husband: If they have the Formula 407 truck tires, don't they already have access to the formula? Why does the General need Moreno at all?
Apropos of nothing, here's a Formula 409 commercial from 1977:
This episode contains:
Argentina
Bullets and Bracelets
Chloroform
Consciousness Raising
Dinner Party
Explosions
Eveningwear
Filing
Golden Lasso
Gun Bending
Innuendo
Mansel in Distress
Nazis
Neutrality
Science
Secret Formulas
Spies
Spinning
Uglifying Eyeglasses
Underage girls
Wine