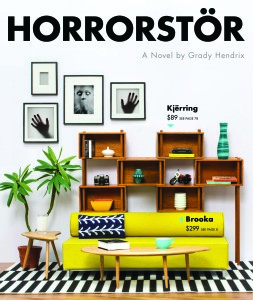 Grady Hendrix's Horrorstör is clever in all the right ways, but it's also quite creepy. You can't ask for much more from a high-concept horror novel.
It's a little too creepy and clever, honestly.
I used to love our IKEA clothes drying rack. It folds flat and stores neatly in a nook in the laundry room, but it's quick and easy to set it up and it holds several loads of laundry at once.
"Love" might be over-stating my relationship to any of our household accoutrements, but it's safe to say I liked this thing a lot. Liked. Past tense.
Horrorstör ruined my laundry rack for me.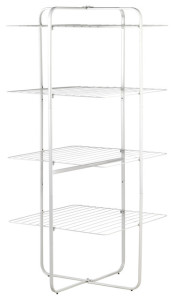 Ever since I finished the book I've been utterly and completely creeped out by the laundry rack. I'm not kidding. I have such a visceral reaction to the thing that I avoid doing laundry until Husband can set the rack up for me.
This is ridiculous, not least of which because there isn't a drying rack in the book.
Nevertheless, I'm looking forward to the TV series, particularly since it's being developed by Gail Berman, who was responsible for developing both Buffy the Vampire Slayer and Angel for television.
Berman did, however, Executive Produce a couple episodes of Dig, which was truly abysmal in ways that even the narcotics and other assorted drugs I was on while recovering from a long and serious illness couldn't improve. Seriously, even for television, that was some seriously ridiculous pop culture archaeology. Let's just hope she learned her lesson from that debacle, because damn. Just…damn.