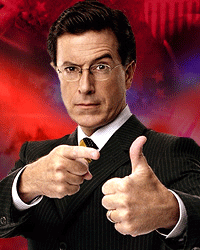 Years ago, I ran into Stephen Colbert on campus. We chatted for several minutes before I realized he wasn't a coworker, but was instead a magical television friend. That was back in ye olde days when Colbert was a correspondent for The Daily Show.
(He was exiting the men's room in our department, in that context, he was familiar but in the wrong context).
Little did I know that one day he'd be the First Lady of France!
On The Colbert Report last night, Colbert explained that he was French President François Hollande's date for the White House State Dinner Tuesday night.

Colbert Report: White House State Dinner
Later in the episode, Colbert presented "Because Shep" – a Fun Sized serving of inspire lunacy in which Shep reviewed the State Dinner menu with viewers. If you don't watch Fox regularly, you may not realize that the foods the Obamas eat are elitist and foreign, not at all like the (exact same foods) that Conservative leaders serve at formal dinners. There's usually a lot of implied classism, with a crunchy undertone of bigotry, but today Shep turned the Fox Bumpkin routine up to 11 with truly divine results.
Enjoy!

Colbert Report: Because Shep
Remember people, Smith is rumored to
the smart one
up there on Bullshit Mountain.
________
Image: Stephen Colbert (Comedy Central, 2014)